By Dayton Morinaga
Advertiser Staff Writer
The reserve fuel of the Hawai'i men's basketball team lasted all of 39 minutes last night.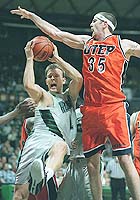 UTEP's Brian Stewart blocks Pedrag Savovic's path to the basket in the first half.

Cory Lum • The Honolulu Advertiser

Unfortunately, Texas-El Paso had a full tank with 40. As a result, UTEP defeated the Rainbows, 79-71, in a Western Athletic Conference game last night.

A crowd of 3,591 at the Stan Sheriff Center watched Hawai'i lose its fourth consecutive game to fall to 6-8 overall and 0-3 in the WAC. The Miners improved to 13-1 and 2-0 with their first WAC victory on the road since February of 1999.

"We just took too long to get fired up and play ball," Hawai'i coach Riley Wallace said. "We just didn't execute in the first half offensively or defensively. The second half, it got better, but we just didn't have enough at the end."

Behind the shooting of guard Predrag Savovic, who scored a career-high 31 points, the Rainbows cut a 12-point second-half deficit to two with 1:43 remaining in the game, but could not score thereafter. While UTEP was converting six free throws in the final minute, the Rainbows had two turnovers and shot two air balls on their final four possessions.

"When you go on the road, you have to find a way (to win)," UTEP coach Jason Rabedeaux said. "They made a run at us, but we held our poise and made plays down the stretch on both ends."

To be sure, the Miners relied on the effective inside-outside combination of Brandon Wolfram and Eugene Costello.

Wolfram, a 6-foot-9, 240-pound power forward, dominated the height-challenged Rainbows in the low post. He connected on nine of 12 shots and finished with a team-high 28 points.

"He's the real deal," Wallace said.

As proof, Wolfram stymied the Rainbows' early double-team strategy. He scored 11 points in the game's first six minutes, when Hawai'i tried to trap him inside a zone defense. He added four during a 12-0 run midway through the first half, when UTEP erased a 13-11 deficit to take a 23-13 lead it would not relinquish.

"We've been getting off to such poor starts the last four or five games," Rabedeaux said. "So getting ahead like that was key."

Another key was the Rainbows' lack of height and depth. Playing without 6-10 post players Troy Ostler (sprained left ankle) and Haim Shimonovic (awaiting an NCAA ruling on his eligibility), Hawai'i did not start a player taller than 6-7.

"We knew we had an advantage down low with our size, so we went with it," said Wolfram, who ranks second in NCAA Division I in scoring.

That much was known.

As the game wore on, the Miners also displayed an unexpected advantage in quickness.

In particular, Costello consistently drove past Hawai'i defenders on the way to 23 points, including 14 in the second half.

"He's quick and he's strong, and he took our guys to the basket," Wallace said. "What are you going to do? He's good."

When the Rainbows closed the UTEP lead to 34-31 late in the first half, Costello scored two consecutive baskets in the final minute for a 38-31 advantage at intermission.

The Miners increased the lead to 64-52 with less than nine minutes remaining before Hawai'i rallied behind Savovic and reserve point guard Ricky Terrell.

A 7-0 run by the Rainbows cut the deficit to 73-71 with 1:43 remaining. With a chance to tie or go ahead, Hawai'i turned the ball over when forward Phil Martin was ruled out of bounds while dribbling along the baseline.

"The dude (Wolfram) bumped me," Martin said. "I turned on the baseline and he literally bumped me out of bounds."

Costello would go on to make two free throws for a four-point UTEP lead that all but sealed the game.

Savovic, who converted 11-of-21 shots, said: "That was only one play. We shouldn't have been in that situation to begin with."

The Rainbows will continue their WAC home stand against Tulsa tomorrow.