By Stacy Kaneshiro
Advertiser Staff Writer
Despite comments to the contrary, Oral Roberts athletic director Mike Carter did grant the University of Hawai'i permission to interview Golden Eagles coach Sunny Golloway, The Tulsa (Okla.) World reported today.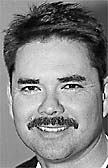 Oral Roberts baseball coach Sunny Golloway lived on O'ahu for about seven years during his youth.

The World reported that Carter denied UH permission to interview Golloway for the baseball head coaching job at UH in yesterday's editions. The paper had a retraction in today's editions.

"The major consensus of the ADs I've talked to is that it's a deal where you don't grant consent," he was quoted in The World in yesterday's paper.

Hawai'i athletic director Hugh Yoshida did not return messages from The Advertiser.

Golloway told The Advertiser he had not applied for the job and wasn't approached by UH. Sources said he was "nominated" during the application process.

If UH decides to interview Golloway, it has a chance of landing one of the most highly regarded coaches in the country. He has been approached by Mississippi, Nebraska and Georgia in the past four years. He is credited with turning the Oral Roberts program into a national contender. The 39-year-old Golloway enters his sixth season with the Golden Eagles, who are the third winningest team in NCAA Division I over the past three seasons behind Stanford and Florida State. Oral Roberts has been to the NCAA tournament the past three years.

Golloway lived on O'ahu for about seven years as a youth.




FENCING: Allan Ah San, associate vice president for UH administration, said the new wooden outfield wall being installed at Rainbow Stadium cost between $60,000 to $70,000 and is being financed from the university's repairs and maintenance budget, not from athletics.

The wall is 15 feet closer to home plate from the original, which had dimensions of 340 feet down the lines, 380 to the alleys and 400 to center.

The wall is expected to be completed by the Jan. 20 alumni game.




UH-HILO: The Hawai'i-Hilo Vulcans will play its annual alumni game at 1 p.m., tomorrow at Hilo's Wong Stadium.

The Vulcans open their 25th season under Joey Estrella with a four-game series against Arizona on Jan. 18 on the Big Island.

Infielder Brandon Chaves, drafted and signed by the Pittsburgh Pirates last summer, and pitcher Tyler Yates, drafted and signed by the Oakland Athletics in 1998, are slated to play for the alumni, Estrella said. Former pro Ken Morimoto (Los Angeles Dodgers organization), a volunteer coach for the Vulcans, also will play for the alumni.