Police say gunman, not officers, shot woman
24-hour shelter hot lines

By Dan Nakaso
Advertiser Staff Writer

Thirteen of Cherry Ann Cachola Domingo's family and friends gathered in the parking lot of the Ala Moana Shopping Center yesterday to offer flowers and balloons at the spot where she died.

But before everyone held hands and said a prayer, the most poignant moment came from the youngest of them, the 1-year-old child whose parents' problems exploded into violence and death Saturday night.

In her chubby, baby fingers, Leeona Elizabeth Domingo-Udani held a picture of herself and her mother. Family friend Emolyn Oasay asked, "You see mommy? Where's your mommy?"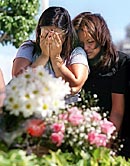 Yvonne Oasay and Romina Manongdo weep after placing flowers over a makeshift memorial.

Deborah Booker • The Honolulu Advertiser

A smile, then a brief shadow of confusion passed across Leeona's face before she responded. After a moment, Leeona's smile returned as she pointed to the sky.

The family hasn't spoken to Leeona about what happened to her 25-year-old mother and father, Michell Udani, 26. She's too young to understand, said Domingo's 19-year-old sister Trisha.

"We don't even understand," Trisha Domingo said.

Police believe Domingo was shot by Udani as she sat in her family's white Mercedes-Benz sport utility vehicle about 10 p.m. Saturday. She died of shotgun wounds in the head. Police said shots were being fired as they arrived and officers fired at least 20 rounds as Udani tried to run away. He died from a police bullet that entered his chest.

Family and friends had encouraged Domingo to get a temporary restraining order against Udani, which was granted Jan. 9. He had threatened Domingo, hit her and threatened to kill her and her family, they said.

They thought a temporary restraining order would mean the end of the threats and abuse. "We hoped a big cloud had been lifted from us," said Domingo's friend, Yvonne Oasay.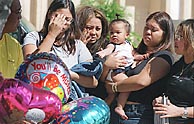 Family and friends gathered yesterday at the parking lot where Domingo was killed Saturday. Domingo's daughter held out her hand toward the makeshift memorial after, from left, Yvonne Oasay, Romina Manongdo, Emolyn Oasay and Trisha Domingo placed their balloons.

Deborah Booker • The Honolulu Advertiser

Yesterday, she and the others said there was too much sadness to talk among themselves about the wisdom of their advice. Police tried several times to serve Udani with the court order but they couldn't find him and it was unclear yesterday whether he knew about it.

The Domestic Violence Clearinghouse will hold a candlelight vigil for Domingo, as it does for all victims of domestic violence, said Nanci Kreidman, the group's executive director.

"Domestic violence programs here on O'ahu and statewide continue to encourage victims to get restraining orders because they are so effective as an instrument of the system to deliver a message to the abuser," Kreidman said.

Murder cases where temporary restraining orders have been granted receive lots of attention, she said. "But in many, many, many, many other battering relationships, restraining orders are very helpful," Kreidman said.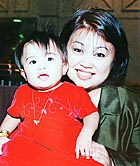 Cherry Ann Cachola Domingo shown with daughter Leeona Elizabeth. Domingo was killed in a domestic violence dispute with the father.

Domingo family photo

For those who gathered at the Liberty House parking lot yesterday, such talk was meaningless. All they knew was that they had to buy bouquets of rose buds and cheery Mylar balloons and come to the place where Domingo died.

"We just wanted to see where it happened and find some sort of answers," Trisha Domingo said. "I don't really know why."

They held hands and surrounded a potted ficus tree, as shoppers parked their cars and Waikiki-bound buses lurched down Ala Moana Boulevard.

"Please God," said cousin Junior Boy De Los Santos, "welcome her to heaven where she will live the life she wanted to have."

Then De Los Santos looked to the sky. And at the same time, baby Leeona reached for a balloon that read "You Will Be Missed."

Abused women can call one of the following 24-hour shelter hot lines
East Hawai'i — 959-8864
West Hawai'i — 322-7233
Kaua'i — 245-8404
Maui and Lana'i — 579-9581
Moloka'i — 567-6888
O'ahu — 841-0822 or 528-0606
The Joint Military Family Abuse Shelter's hot line is 533-7125.