Co-workers quiet on busy day at mall

By Karen Blakeman and Curtis Lum
Advertiser Staff Writers

The man killed by police Saturday night in the Ala Moana Center parking lot was holding the mother of their young child at gunpoint before he opened fire on police.

Cherry Ann Cachola Domingo, a 25-year-old manager at LensCrafters in Ala Moana, died of shotgun wounds to the head in her car outside her place of employment late Saturday.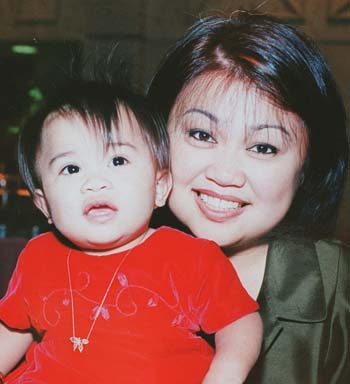 Cherry Ann Domingo holds her daughter, Leeona Elizabeth, who recently turned 1.

Domingo family photo

Witnesses and emergency workers at the scene Saturday night said they thought she most likely was shot inside her white Mercedes SUV at about 10 p.m. by Michell Udani, 26, the father of their year-old child. She recently had obtained a restraining order against him.

But yesterday police were investigating to determine the source of Domingo's fatal head wounds and when they occurred. Police were trying to determine whether she was killed by Udani before police arrived, or during the gun battle. Honolulu Police Chief Lee Donohue said yesterday that officers did not shoot in the direction of the vehicle where she was found dead.

Witnesses heard Domingo screaming inside the vehicle about 10 p.m. Saturday and saw Udani brandishing a sawed-off shotgun beside her. At least two people called 911, and police were at the scene within minutes.

The officers had little time to react, Donohue said during a news conference yesterday afternoon.

"From what I know, as soon as they got there shots were being fired," Donohue said. "(Udani) had exited the vehicle and was firing at the officers. He was trying to get away and evade the officers when we shot back."

Donohue said at least 20 rounds were fired at the fleeing suspect, but he did not know how many hit Udani. The medical examiner performed autopsies yesterday on Udani and Domingo, and the results showed Domingo died of more than one shotgun wound to the head.

Udani's fatal wound was from a bullet that entered his chest, with injury to his lung and liver. No information was released about non-fatal wounds.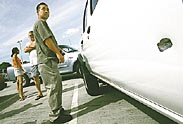 Brett Okamura, owner of this Nissan Frontier, waits for police at Ala Moana Center to take a report on the bullet damage done to his vehicle in a shootout on Saturday night between police and a gunman.

Deborah Booker • The Honolulu Advertiser

Donohue said witnesses said they heard gunshots before the officers got to the scene at about 10:05 p.m.

"I don't know if she (Domingo) had been shot at that point. But we do know that when the officers responded, we did see movement from the female," Donohue said.

Bullet holes were found in a police car, a Liberty House window and in at least one civilian car. It was not known yesterday how many of those stray rounds came from the officers or from Udani.

"There were people around and we're just grateful that, first of all, nobody else was injured in this incident and that our officers are OK," Donohue said.

Five police officers were placed on administrative leave pending the outcome of an investigation, Donohue said. Based on a preliminary investigation, however, Donohue said he believes the officers used "reasonable" force in returning fire.

Udani had been showing signs of increasingly violent behavior before that, Domingo's family said.

"Mostly destructive behavior at first: throwing things, breaking things," Domingo's mother, Tessie Domingo, said yesterday.

Domingo's parents were at their Waipahu home yesterday, greeting friends and family as they arrived to express sympathies, taking care of the things families take care of after a death, caring for their little granddaughter, Leeona Elizabeth Domingo-Udani.

Tessie Domingo opened the door for a well-wisher late yesterday afternoon. She greeted him, welcomed him in, and began to sob, gently at first, then more audibly, a sound echoed from across the room by Amante Domingo, Cherry Ann's father.

Their daughter had been a good girl, Domingo family members and their neighbors said: beautiful, strong, happy.

"Ambitious," said Mary Jyne De Los Santos, Domingo's cousin and lifelong friend. "She started working at LensCrafters when she was 16. She worked her way up to a manager. She took that transfer to Ala Moana (from Pearlridge) because she said it would be better for her and it would mean higher pay."

Domingo, a graduate of Sacred Hearts Academy, was fun-loving and loyal to her friends. She and De Los Santos were out at a club with the usual gang of women friends when they met Udani.

"We were in line (to get in the nightclub) and he struck up a conversation with her," De Los Santos said. Domingo was attracted. De Los Santos wasn't overwhelmed.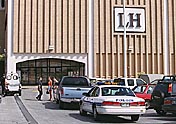 Police work at the scene of Saturday night's shootout in the second-level parking lot next to Liberty House at Ala Moana Center.

Deborah Booker • The Honolulu Advertiser

Mike was OK," she said. "At first."

It later became clear that Udani's drinking didn't stop when the social occasions were over, she said. The relationship was on and off. Domingo lived with Udani at times, but always at the home of one of Udani's relatives. Eventually, Domingo began to have contact with Udani only because he was the father of her baby.

Although Udani often lamented a lack of contact with the child, the family said it was Domingo who took steps to keep father and child united. It was she who drove Leeona to visits with Udani.

"He didn't even show up at his own daughter's first birthday party," De Los Santos said.

After missing the birthday party in December, Udani became more angry, destructive and controlling, De Los Santos said.

He grabbed and pushed Domingo. He threw her expensive new cell phone on the ground and broke it. He took her keys away from her on one occasion. Domingo walked to a grocery store and called De Los Santos' brother for help retrieving them. Udani grabbed and broke the brother's cell phone, De Los Santos said.

About a week ago, Udani ran into Domingo, De Los Santos and their girlfriends at a club, De Los Santos said. They left when they saw him, but he chased them down the street. He caught them, grabbed Domingo by the throat in a headlock and pulled her down the sidewalk for more than a block before the other women were able to flag down a police officer.

Domingo at first declined to file charges. De Los Santos and the other women begged her to change her mind. She did.

Donohue yesterday confirmed that Domingo was granted a temporary restraining order against Udani on Jan. 9. He said police made several attempts, including on Saturday, to serve Udani with the order without success.

Domingo had called police and complained about Udani's abuse and Donohue said police advised her to get the restraining order. Although the order was never served, Donohue said it still is a good legal method of stopping domestic violence.

"TROs have worked. They're not a hundred percent foolproof, but they have worked and it's the process of law that we have that is available," he said.

The names of the five officers involved in the shooting were not released.

Udani was the second man to be shot to death by a Honolulu police officer in the past three months. On Oct. 3, Bernard Crivello, 25, was killed during a traffic-stop confrontation with a 29-year-old police officer in Waikiki.

Police said Crivello was driving a stolen car and repeatedly reversed the vehicle into a police Cushman and drove toward the officer. The officer fired one shot at Crivello, striking him in the head.


---
Correction: A family picture of a woman posted earlier today erroneously identified her as Cherry Ann Domingo. The picture here is the correct one.

[back to top]