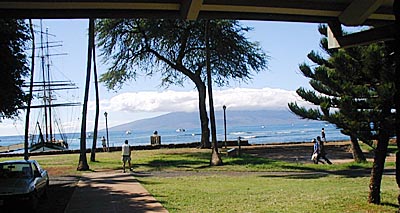 The entrance to the Lahaina Public Library has a beautiful view of the historic harbor and neighboring Lana'i. The mayor of Maui and the state librarian say the West Maui community has outgrown the longtime home of the library.

Timothy Hurley • The Honolulu Advertiser
By Timothy Hurley
Advertiser Maui Bureau
LAHAINA, Maui — With its waterfront location, the quaint Lahaina Public Library is one of the most attractive places in Hawai'i where a person can check out a book. In fact, a few years back, a national library journal ranked it among the 10 most scenic libraries in America.
But that would likely end under a proposal by Mayor James "Kimo'' Apana to move the little library from its present, cramped location in the Lahaina Historic District, between Front Street and Lahaina Harbor, to a site that would allow construction of a spacious, modern library for West Maui's large population.
The mayor recently met with State Librarian Virginia Lowell and offered to help find a piece of property for a new library, perhaps in a land exchange between the county and the state, which owns the library, or through a donation from a developer.
The building, opened in 1955, might then be available for a visitor center and a sorely needed public restroom facility, according to the mayor.
"We're seeing increased traffic from cruise ships, and that might be a good idea,'' said Karlynn Kawahara, the mayor's spokeswoman. But, she added, it's too early to say what role the building may ultimately play.
Whatever the use, it's clear not everyone's happy with the idea. A number of library patrons have expressed dismay regarding the mayor's proposal, said acting Branch Manager John Clark. They see the library as a quiet oasis that should be preserved amid the T-shirt and trinket shops and art galleries of Front Street.
"People who live here and are regular users of the library like it right here,'' Clark said. "They say it would be a shame.''
But Lowell, who visited Lahaina on vacation last weekend, said the reality is that the West Maui community has outgrown the small facility.
"As quaint and cute as it is, the library is not capable of providing the high-tech, up-to-the-minute type of library services the community deserves,'' she said. "It's a perfect location for history, but for providing services, it doesn't cut it.''
Several shortcomings
One flaw is that in a town where parking is a premium, there are only four stalls at the library, which forces some patrons to lug their books for blocks. There's also no air conditioning. With the windows and doors always open, the building is plagued by dust and bugs, and the heat and humidity conspire to prematurely age the collections.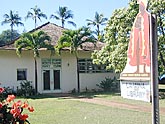 The Lahaina Public Library building was built in 1955 on a prime Front Street location near the harbor. Although scenic, critics say there is inadequate parking and services for the growing West Maui community.

Timothy Hurley • The Honolulu Advertiser

A former Maui district library administrator described the working conditions of library employees as appalling, and a 1991 state library master plan recommended replacing the facility by 1994.

No money was available then, and no money is available today. In fact, the project isn't even on the state library system's priority list of capital improvements.

That, however, doesn't mean a new library isn't needed in Lahaina, Lowell said.

"When I met with the mayor, and he asked if I was interested in a new library building in Lahaina, I said, 'Of course!' " Lowell said.

But even if a site is acquired, it could be some time before a new library is constructed. Lowell said a new library wouldn't be ready in Lahaina for at least eight to 10 years under the normal path of development. And there are other areas, including 'Aiea, she said, that are further along in pushing for a new library.

There are other options, she said, including construction by an independent developer, as was done with a public elementary school in Kihei, and lobbying for money from the state Legislature directly.

"The mayor is a real go-getter. He raised the issue of relocation, and I wouldn't put it past him to get this done,'' the state librarian said.

Peggy Robertson, a retired Lahaina schoolteacher who has been waging a campaign to open the library on Saturdays, said the community desperately needs a new spacious library. She said there is room for it on vacant land near the Lahaina Cannery Mall, farther down Front Street away from the mass of tourist shops.

"It's centrally located and easy to get to. Everyone I've talked to said moving it there would be a great idea,'' she said.

Other options

As for the old library, she said a portion of it should be retained as a reading room for the Hawaiiana section.

Buck Buchanan, a former chairman of the Maui District Library Advisory Council, said he likes the idea of building a new library, but he's not too keen on turning the old one into a visitor center.

"The mayor is jumping into something he doesn't understand,'' he said. "You can put too much emphasis on the visitors and not enough on the local people, and then you end up with junk.''

Buchanan said he'd like to see the building removed and have the area returned to what existed in the 1800s, when Kamehameha III reigned over the Islands from Lahaina. A Hawaiian long house stood on the makai side of the library and a taro patch was where the building is today.