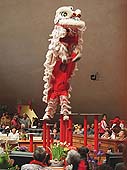 The Chinese Lion Dance Association performed on high towers in the state House chamber today during first day festivities at the 2001 Legislature. See story.

Richard Ambo • The Honolulu Advertiser
Updated at 2:44 p.m., January 17, 2001
BREAKING NEWS
Lawmakers call for higher minimum wage, lower taxes
The 21st state Legislature opened today with a modest agenda that hit the hot-button issues of education, taxes and government worker pay raises without proposing any revolutionary new approaches to solving them.

Full text of House Speaker Calvin Say's speech

Full text of Senate President Robert Bunda's speech

Full text of House GOP Leader Galen Fox's speech

Full text of Senate Minority Leader Sam Slom's speech

Posted at 5:40 p.m.,Wednesday, January 17, 2001
No gun found on Mililani suspect in police shooting
Police today found drugs and money in a fanny pack that belonged to a man shot by a police officer early Sunday morning in Mililani, but no weapon.

Posted at 1:53 p.m.,Wednesday, January 17, 2001
Four men re-arrested in Song Chol Marshall murder
The four men who were released last week pending further investigation of the robbery and murder of a Kaneohe liquor store owner were re-arrested today.



Teachers reject panel's pay recommendation
The Hawai'i State Teachers Association yesterday joined the state in rejecting a fact-finders report recommending a 19 percent raise for teachers, sticking to its demand for a 22 percent raise over four years.

911 tapes reveal terror at Ala Moana
Moments before Cherry Ann Cachola Domingo was shot and killed by her former boyfriend, a man who had come to her aid had stared into the barrel of a sawed-off shotgun.

Police 911 tape (636 kb). RealPlayer plug-in required.

Maui mayor wants new Lahaina library
With its waterfront location, the quaint Lahaina Public Library is one of the most attractive places in Hawai'i where a person can check out a book. In fact, a few years back, it was ranked among the 10 most scenic libraries in America.


2001 Hawai'i State Legislature
| | |
| --- | --- |
| | Lawmakers convene today for what could be one of the most contentious sessions in recent years. Check out where legislators stand on the key issues, then make your voice heard. Contact lawmakers, join a discussion on what you want lawmakers to accomplish this year or start a petition on issues that matter to you. |
Minidisc prize winner
The latest winner in our Click! techtoy giveaway is Larry Wolfe of Kaimuki. He receives a Sony minidisc recorder/player with a PC link.
This week, Click! is giving away a Palm M100 handheld computer. Enter here.