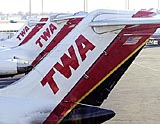 TWA, which agreed to be bought by American Airlines, often offers attractive fares on coast-to-coast flights through its St. Louis hub. Industry experts predict fewer bargains should the American deal come to pass. See story.

Associated Press

Minidisc prize winner
The latest winner in our Click! techtoy giveaway is Larry Wolfe of Kaimuki. He receives a Sony minidisc recorder/player with a PC link.
This week, Click! is giving away a Palm M100 handheld computer. Enter here.
DFS Hawai'i renews duty-free contract
DFS Hawai'i yesterday won the five-year state contract to be the exclusive retailer of duty-free products in Hawai'i, but the minimum bid is 43 percent lower than previous years.

Judge OKs liquidation of seized health insurer
A state judge has cleared the way for the liquidation of a health-coverage provider recently seized by the state.

St. Louis bargain may be over
Flying through St. Louis will become more expensive if Trans World Airlines ceases to exist, some industry analysts warn.

Click!
Battle of the Browsers
They're called Web browsers, even though these days they're expected to do so much more than that. And although it all sounds so friendly, the browser software market was ground zero of a brutal battle.