Legislature to open amid Hawaiian-rights protest


By Lynda Arakawa and Kevin Dayton
Advertiser Capitol Bureau
The 21st Hawai'i Legislature opens this morning amid music, flowers and early partisan infighting.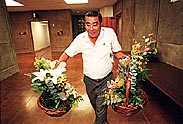 Timothy Toba of Rudy's Flowers delivers arrangements in preparation for today's speeches, music and munching.

Richard Ambo • The Honolulu Advertiser

There is more money available than ever before, with Gov. Ben Cayetano proposing general treasury spending of nearly $7.5 billion over the next two years. That would be a record.

But the state's school system and social services need more money. And public employees want raises.

Senate President Robert Bunda (D-Wahiawa, Waialua, Sunset Beach) said: "I certainly would like to think that we have that much flexibility in the budget to be Santa Claus, but I don't think that's our approach."

There are 19 Republicans in the 51-member House, the most since statehood. Republicans are expected to use procedural maneuvers and their increased numbers to try to steer policy.

See it on TV

The House's opening day ceremony begins at 9:40 a.m., the Senate's at 10 a.m. House television coverage will be live on O'ahu on 'Olelo, channel 53, and tape delayed on Neighbor Islands. Senate coverage will be live on O'ahu on 'Olelo 54 and cablecast to the Neighbor Islands via the UH HITS system. Entertainers include Ka'au Krater Boys, 'Ohana O Mele, Colon and Genoa Keawe.

House Speaker Calvin Say (D-Palolo, St. Louis, Kaimuki) said House Minority Leader Galen Fox this year refused to sign a resolution nominating Say as speaker.

Say attributed the move to partisanship, adding, "I'm not going to play the game." He said he intends to work with the Republicans.

Fox (R-Waikiki, Ala Wai) said he refused to sign to protest the speaker's selection by a voice vote, rather than a roll call.

Fox said he does not object to the choice of Say as speaker.