By Eloise Aguiar
Advertiser Windward Bureau
KAILUA — Norfolk residents were surprised when a city crew appeared in their neighborhood on a recent Friday with long-awaited street signs and then worked through the weekend to install them.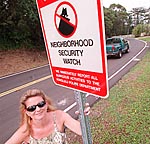 Lori Baker stands in front of one of the new signs that the city installed along Old Kalaniana'ole Road. Norfolk residents earlier complained about speeding in the area.

Jeff Widener • The Honolulu Advertiser

People in the community had become skeptical after hearing month after month since October that they would have street signs in 30 days to help enforce laws against speeding, dumping and other illegal activities in the Norfolk Pines subdivision, said Steve Baker, a Norfolk resident.

Last month, the city said the signs wouldn't be up until February or March because the division that made the signs had moved and was without proper electrical hookups.

Baker said the recent sign installation on Old Kalaniana'ole Highway has made a highly visible statement of the city's commitment to the community.

"There were a lot of doubters before," Baker said. "This renews enthusiasm to get the other things done."

The workers arrived the day after a neighborhood board meeting in which residents complained about the delay in getting the signs. City Director of Planning and Permitting Randall Fujiki attended the meeting as the mayor's representative and said he would check into the progress of the signs, said Harvey Teves, another Norfolk resident.

"I guess he kicked some tail," Teves joked, adding that he was pleased with the results. The crew installed signs and street reflectors, and painted lines on the street.

The city didn't return calls for comment.

In August the city learned about the problems in the area, including cars being set on fire, drug dealing and four-wheeling on private property. The city responded by increasing police patrols, cleaning up the trash and helping form a Neighborhood Watch. Signs were promised because they help police enforce laws against dumping, parking and speeding.

Despite the help, outsiders continue to dump trash in the community. The city has said it is considering options to stop that, Baker said.

For its part, the community will stay active and pursue traffic-calming alternatives, beautification projects and increasing Neighborhood Watch involvement, he said.