Sony Open tee times

By Ann Miller
Advertiser Staff Writer
Scott Simpson was the last man standing at yesterday's Johnny Bellinger Shoot-Out. He was a long shot at best — to win and to be standing.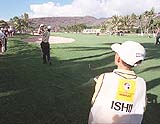 Colan Ishii, 11, watches as his father, David Ishii, delivers a shot during the Johnny Bellinger Shoot-Out. The senior Ishii fell out on the third hole (No. 12) yesterday.

Jeff Widener • The Honolulu Advertiser

The annual Sony Open in Hawai'i tuneup came down to Simpson and Jim Furyk, both bouncing back from career-threatening injuries.

Simpson missed all last year with a broken ankle he suffered skiing on Dec. 30, 1999. Before he won the Mercedes Championships Sunday at Kapalua, Furyk had been sidelined after tearing cartilage in his right wrist in a freak football accident at an October tailgate party.

They ended up under the scoreboard at Wai'alae Country Club, in an 18th-hole chip-off from 67 yards out. Simpson sent his shot 12 feet, 7 inches past the pin. Furyk came up 12 feet, 11 inches short of the hole and three inches short of his second Shoot-Out victory in four years.

For one of the few times in the 14 years it has sponsored the Shoot-Out, First Hawaiian's $5,500 first-prize check could be deposited in a local bank. Simpson, whose wife is from Hawai'i, used to lived here and has an account in Kailua.

Simpson will be playing for much more when the $4 million Sony Open tees off tomorrow, but he admitted yesterday was a huge boost after his lost year. When his ankle didn't heal properly, he had surgery in July, couldn't walk for 2 1/2 months and didn't play a full round until visiting Wai'alae in December.

"I was here to watch the Wahine volleyball matches," Simpson said, smiling. "Not golf."

Beach time also served the 1987 U.S. Open champion well yesterday. Simpson hit three brilliant bunker shots to survive the elimination format. When it was over, Simpson attributed his victory to luck and his sand skill to 14-year-old son/caddy Sean, who showed his dad a new "steeper" swing in the bunker the last time they played.

"I hit three really good bunker shots," said Simpson, who also won the Shoot-Out in 1991, "and that's been my bugaboo here the last few years."

The tip also paid off for Sean, who was $550 richer thanks to his 10 percent caddy cut.

Defending Shoot-Out champion Peter Jacobsen didn't make it past the first hole (No. 10) yesterday. Defending Sony champ Paul Azinger was ousted at the second (11). Hawai'i's David Ishii, who has won — and donated — a record $38,000 in previous Shoot-Outs, fell out at the third hole (12).

Ishii has never missed a Shoot-Out, but wasn't in this one until Monday night, after he qualified for the Open.

"I would have missed playing in nice weather, and it's a treat to play at Wai'alae; it's in such nice shape now," said Ishii, 45, a regular on the Japan PGA Tour and a winner here in 1990. "And I would have missed seeing guys like Scott and Steve Jones and Paul Azinger — my age group."

Ishii shot a 68 to qualify. "It was good yesterday," said Ishii, who took off last month to rest his sore back. "All last year I never shot in the 60s. · I'm not swinging the way I'd like to, but it's much better.

"I just feel like my back is old. It groans every time I swing, but it feels better now."

SHORT PUTTS: Defending Sony Open champion Paul Azinger has signed a five-year deal to play Liquidmetal Golf's tour series driver, wear its hat and carry its bag. ... Kane'ohe's Dean Wilson was "Rookie of the Year" on the Japan PGA Tour in 2000. He finished 32nd on the money list and won the Aifui Cup, his first major professional victory.