By Stephen Tsai
Advertiser Staff Writer
WAILUKU, Maui — "Five, eleven, seven!"
As the announcement echoed in the musty Keopuolani Park recreation center, Purdue University quarterback Drew Brees, with the desperation of an inmate professing his innocence, pleaded for a second chance.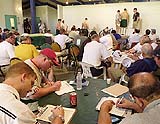 NFL scouts fill the room and their notebooks as college football players are weighed and measured during a break in Hula Bowl practices.

Gregory Yamamoto • The Honolulu Advertiser

After a short discussion, the request was granted. Then Brees, his back literally against the wall, stood tall as an auditor measured his height.

"Six even!"

This time, the room echoed with applause and laughter, as more than 40 pro scouts scribbled the information into their notebooks.

This time, Brees exhaled in relief.

On the field, football is said to be a game of inches. In football scouting, such as this week's sideshow leading to Saturday's Hula Bowl at War Memorial Stadium, it is a game of fractions.

For Brees, to be listed at 6 feet instead of the initially announced 5-117/8, is one more validation in selecting him as one of the first two quarterbacks in April's National Football League Draft.

There is no doubt the NFL is a business and the players are the investments. That is why NFL teams spend millions of dollars to poke and prod prospects, to time and measure them.

Hula Bowl
3 p.m. Saturday
War Memorial Stadium, Wailuku, Maui
Tickets: Call (808) 871-4141 or via e-mail at tickets@hulabowlmaui.com or at official merchandise/ ticket outlet in the Maui Mall

That is why Brees, a sure future millionaire, whose every college pass is available on videotape, still must parade on a Maui stage, shirtless and in bare feet, to be measured as if he were being outfitted for a tuxedo.

"They're investing a lot of money in us," Notre Dame tight end Dan O'Leary said. "They want to make sure they have the right product."

Tom McConaughey, a scout for the San Diego Chargers, said the collection of data is "just the standard. If we can make everything as consistent as possible, it works great."

This week, scouts also will test prospects' speeds over 10 and 40 yards, and count the number of times they can bench press 225 pounds.

In addition, each prospect was given a written test, with questions that ranged from the mundane to the bizarre.

"There's a question: What's the difference between a coat and a dress?" University of Hawai'i safety Dee Miller recalled.

Said Kentucky linebacker Marlon McCree: "The weirdest one is: Would you get upset if you saw someone spit on the sidewalk?"

"You take so many tests," McCree added, "after the fifth or sixth one, you get tired of taking them. There are some weird questions. But you just take (the test) and get it out of the way so you don't have to take it later on."

McConaughey said the questions are designed to monitor response. "A weird question to them might be just a way to get a reaction out of them," he said. "It's just 'being themselves' is what we want."

McConaughey said all of the information is compiled and used as supplemental material in an overall evaluation.

"If a guy is a little bit small for his position, he has to have something else skill-wise that we really like and can throw into the equation," McConaughey said. "It's not a science. It's part of an evaluation."

Meanwhile, McCree already has scored points for temperament.

"What would happen if I saw someone spit?" he said. "Of course, I wouldn't get mad."