Advertiser Staff
WAILUKU, Maui — Utah linebacker Kautai Olevao, a former Kahuku High standout, showed his loyalties on his college helmet during Monday's Hula Bowl practice at Keopuolani Park.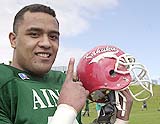 Kautai Olevao will have a Kahuku High sticker on his Utah Utes helmet in Saturday's Hula Bowl.

Gregory Yamamoto • The Honolulu Advertiser

Olevao played on the 1994 Kahuku team that lost to St. Louis in the Prep Bowl. Last season, Kahuku upset nationally ranked St. Louis, 26-20, to win the state football championship.

"My family called me, was real late at night; I was about to go to sleep," said Olevao, who will be playing for the 'Aina team in Saturday's Hula Bowl at War Memorial Stadium.

"They were at the game. They called me on the cell phone. There were 10 seconds left in the fourth quarter and Kahuku was winning. They were going to win and they (family) were counting down the 10 seconds."

Olevao said the decal on his Utes helmet was just to congratulate Kahuku on a "great season in bringing home the state championship."

Olevao's teammate at Utah as well as on the 'Aina team, quarterback Darnell Arceneaux, led St. Louis to three Prep Bowl titles.

"He was hurt," said Olevao, who said he told Arceneaux, "'We'll give them the '80s and '90s and we'll take 2000 and up.' "