By Derek Paiva
Advertiser Staff Writer
Jamaican dancehall-pop artist Shaggy, with the second-best-selling single and album on Billboard's two biggest charts this week, can thank a Honolulu deejay with sharp ears for a push up the ladder.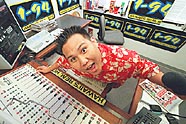 Radio deejay Pablo Sato got a thank-you Longines watch from recording artist Shaggy for giving the breakout single its early airplay.

Deborah Booker • The Honolulu Advertiser

Last July, when KIKI FM music director and afternoon drivetime DJ Pablo Sato dropped a Web-downloaded version of Shaggy's still-unreleased album "Hotshot" into his car CD player on a Sunday cruise with some friends, all he wanted was a sneak preview before the inevitable promo copy made its way to his station. Six months later, Sato is being credited by his radio peers and the national press with helping make the single "It Wasn't Me" (and its album "Hotshot") a coast-to-coast smash, long after the song's embrace by Hawai'i radio listeners.

Hawai'i charts reflected the popularity of Shaggy's CD, "Hotshot," and an unreleased single, "It Wasn't Me," last summer, and The Advertiser reported in August, before Shaggy's Sept. 1 Honolulu concert appearance, that Honolulu radio had picked up on "It Wasn't Me." In recent weeks, however, the story of the single's discovery has been the center of attention.

Haven't heard the song yet? Here's a primer.

Shaggy's hit duet with Ricardo "RikRok" Ducent features the singer patiently listening to friend Ducent's sad but funny tale of being caught by his girlfriend "butt-naked" and in flagrante delicto in his bathroom (and all over the house, for that matter) with the "girl next door." Among the wisened nuggets of advice Shaggy parcels to his soooo-busted bud? "Tell her it wasn't you." Which Ducent does, over and over, in the mind-numbingly catchy hit. The song's presence on Hawai'i radio last fall offered some playfully innocent relief from Siquo's equally salacious, though ubiquitous, "Thong Song."

"All the tracks we heard on 'Hotshot' sounded nice, but then we met up with track 10," remembered Sato, who in recent weeks has fielded interview requests from USA Today and Entertainment Weekly, about his breaking the song. "We sat in the car and were like, 'Oh my God, this is hilarious!' I mean, the lyrics . . . It had a great hook." Sato, 23, wanted "It Wasn't Me" on his radio show.

Shaggy song stood out

Trouble is, Shaggy's record label MCA was already pushing "Dance and Shout" as the first single from "Hotshot," and wasn't offering deejays any other tracks from the still-unreleased CD. "Dance and Shout" was getting "so-so" response from KIKI FM listeners, but Sato thought "It Wasn't Me," which he had downloaded from a Napster-like MP3 site he won't name, was the album's standout cut. He took it to the office of KIKI FM program director Fred Rico the day after his discovery.

"I said, 'Dude, we gotta play this song,'" said Sato. "Fred was coming down with a cold at the time, and I guess he didn't want to talk to me that day. He said, 'Aw, just play it and get out of here.' " Sato did just that, on his afternoon show. "The phone lines lit up right away. Within a couple of days, it was our number-one requested song."

By the time Tommy Austin, program director for Portland, Ore., radio station KKRZ FM caught wind of "It Wasn't Me" while on a late-August Hawai'i vacation, the album cut from the now released "Hotshot" was all over Honolulu radio.

"As soon as we got off the plane, I put it on the radio (in Oregon), and it blew up just as big for us as (in Hawai'i)," Austin told USA Today last month. "It's so melodic and over the top, and everybody lives through it vicariously."

With "Dance and Shout" never quite catching on nationally, "It Wasn't Me" began building slow, but steady, word of mouth among radio programmers across the country.

On the strength of growing nationwide airplay, "It Wasn't Me" finally entered the Hot 100 at No. 57 on Nov. 4, peaking at No. 2 on Dec. 23, where it's been entrenched ever since.

The ensuing momentum also revived the fortunes of the once-faltering "Hotshot" CD. The release is now comfortably perched at number two, with over 2 million copies sold. (Incidentally, "Hotshot" has been one of Hawai'i's top selling CDs since its August release.) When the national media began its search for the source of the song's radio discovery, all industry fingers pointed toward Hawai'i and KIKI FM's Sato. "I was like, 'You sure I'm the one?'" said Sato. "Honestly, I was overwhelmed and a little apprehensive."

None of that apprehension, said Sato, came from the fact that he had downloaded the song from a Web site with a claim to fame of providing yet-to-be-released albums free-of-charge to Internet surfers. A self-professed MP3-junkie, Sato said online music trading services like Napster are one of his primary sources for scouting new music to introduce to listeners.

Facing trouble with the law

Sato said KIKI FM faced resistance on only two occasions for playing unreleased tracks he found on the Web. The radio station received cease-and-desist orders from lawyers for crossover R&B artists Mya and K-Ci & JoJo, and in both cases, KIKI stopped playing the songs. In those cases, Sato said, the record companies were more concerned with the station playing songs not sanctioned by the labels than the way the songs had been obtained.

In the case of "It Wasn't Me," Sato said he has received nothing but kudos from MCA for his part in reversing the fortunes of "Hotshot."

Here in Hawai'i, "Hotshot" provided a follow-up fall hit in "Angel," which judiciously borrows the melody line from the 1968 Merrilee Rush smash, "Angel of the Morning." A fourth album cut, "Leave It To Me," is now attracting growing listener requests.

As for the Shag-man himself, the former Orville Richard Burrell who — though consistently popular in Hawai'i — hadn't had a national hit since his 2-million-selling crossover smash "Boombastic" in 1995, is grateful for his suddenly relevant career. Never mind the controversial technology that rescued it from life support.

"This is probably the only time in my life that I will like Napster," Shaggy told USA Today as "It Wasn't Me" was hitting big in December. "Some kid on the radio station in Hawai'i took it and put it on the radio, and the phones lit up. We are looking at a multiplatinum album. It's already a beautiful Christmas."

Said Sato, with a laugh, "When I saw that quote, I was like, 'Yeah man, some kid that REJUVENATED YOUR CAREER, dude!' But it was all cool."

In December, Shaggy sent Sato his thanks, along with a pricey Swiss-made Longines watch as a Christmas gift.

A framed plaque, complete with a platinum copy of "Hotshot," will soon be on its way from MCA.

"Kind of funny for a little Japanese boy from Hawai'i, huh?" laughed Sato.