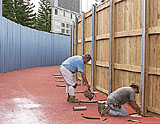 Construction workers put the finishing touches on the new outfield fence at Rainbow Stadium. The fence has been moved 15 feet closer to home plate. See story.

Deborah Booker • The Honolulu Advertiser

Advertiser Special:
The Sony Open
See a special section on the Sony Open in Hawai'i 2001, complete with hole-by-hole descriptions, information on parking and bus service, as well as stories on defending champion Paul Azinger and the comeback of Scott Simpson.
Hawai'i routs Penn State after slow start
The University of Hawai'i men's volleyball team went deep into the night before finally putting away Penn State, 24-30, 30-17, 30-22, 30-21, in the first round of the Outrigger Hotels Invitational.

Recreation
100-mile ultramarathon premieres in Hawai'i
This weekend, 30 ultra enthusiasts will take to the hills for Hawai'i's first 100-mile ultramarathon. The O'ahu race is considered extreme even by century-run standards.

Quick swing to the pros for Kuchar
Almost from the shadow of the campanile at Georgia Tech to the crucible of the PGA Tour at Wai'alae Country Club in a single ambitious bound is how far 22-year-old Matt Kuchar has come.

Sony Open tee times

UH's Brooks in Hula Bowl
Rinda Brooks, who enrolled at UH in 1997 for what was supposed to be a two-year college career, will play in Saturday's nationally televised Hula Bowl at Maui's War Memorial Stadium.