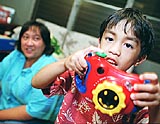 Three-year-old David Wilhelm, playing with a camera, is awaiting a kidney transplant. His mother, Puanani Wilhelm, sitting behind him, is being tested as a donor. Immediate family members are the most common organ donors for young children; five children await kidneys now in Hawai'i.

Cory Lum • The Honolulu Advertiser

Health
The transplant waiting game shows progress in the Islands
In the past year, 70 Hawai'i patients received life-saving transplants, a record year for a state where there's been concern about low levels of organ donation in the past.

Health Calendar
Isle deejay takes credit for Shaggy hit
Jamaican dancehall-pop artist Shaggy, with the second-best-selling single and album on Billboard's two biggest charts this week, can thank a Honolulu deejay with sharp ears for a push up the ladder.