By Wayne Harada
Advertiser Entertainment Editor
B.B. King, often dubbed the king of the blues, will return to Hawai'i for a four-Island engagement in March. Tickets go on sale Saturday.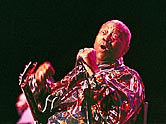 B.B. King will play on Kaua'i, O'ahu, Maui and the Big Island in March.

Associated Press library photo • Aug. 9, 2000

At 74, King and his guitar Lucille continue to travel extensively, logging about 200 concerts around the world annually. He arrives in Hawai'i on the heels of three 2001 Grammy nominations.

The playdates:

Kaua'i: March 8, 7:30 p.m., at the Kauai Marriott Hotel Grand Ballroom in Lihue. Tickets: $40; limited $50 Golden Circle seats available; at Jack Wada Electronics, Foodland at Waipouili and Princeville, Marriott concierge desk. Call: (808) 245-5050.
Honolulu: March 9, 8 p.m., at the Blaisdell Arena. Tickets: $50, $40, $30; Blaisdell box office, all Ticket Plus outlets, including Tempo Music, House of Music Ala Moana, Food and Sack 'n Save, UH-Manoa Campus Center, MWR Kunia. Charge by phone: 526-4400 (Ticket Plus). Information: 591-2211 (Blaisdell).
Maui: March 10, 7 p.m., at the Maui Arts & Cultural Center amphitheater in Kahului. Tickets: $50, $40, $30; $55 for reserved table seating; MACC box office. Charge by phone: (808) 242-SHOW. Information: (808) 242-7469.
Big Island: March 11, 8 p.m., in the Hilton Waikoloa Hotel's Grand Ballroom in Waikoloa. Tickets: $40 general admission table seating ($50 at the door), plus two-drink minimum; MJS Music in Hilo, Byrd's in Waimea, Mele Kai Music in Kona, Tempo Music in Hilo and Kona, Sack 'n Save in Hilo, Kona and Puainako. Charge by phone: (808) 526-4400 (Ticket Plus).