By Yasmin Anwar
Advertiser Staff Writer
As state lawmakers streamed into chambers yesterday to begin a fresh legislative session, the plaintive sound of Hawaiian chanting in the courtyard bled through the heavy doors.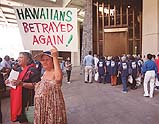 Moanikeala Akaka, a former OHA trustee, expresses her views with a sign while guests and spectators line up outside the Senate gallery to attend the opening day of the session.

Richard Ambo • The Honolulu Advertiser

Despite calls for support from hundreds of Hawaiian language-immersion students and educators who fear the loss of native entitlements, lawmakers were largely silent on the issue of how to defend the state's shaky "social contract" with its indigenous minority.

Although Senate president Robert Bunda, D-22nd (Wahiawa, Waialua, Sunset Beach), made no mention of Hawaiian issues in his speech, Republican leader Sen. Sam Slom, R-8th (Wai'alae Iki, Hawai'i Kai), briefly noted the plight of Hawaiians waiting for homestead leases and said the GOP will support Hawaiian sovereignty.

Beyond the political rhetoric, legal pundits said there is little that can be done at the state level to reverse a groundswell to abolish what affirmative action foes call Hawaii's racial spoils system.

"The courts have said the Hawaiian system violates equal protection," said Honolulu lawyer Jack Schweigert, who specializes in constitutional law. "The Hawaiians are looking for a positive answer, but there's really nothing the Legislature can do, and they should just come out and say that."

The U.S. Supreme Court last year invalidated the Hawaiian-only elections for the Office of Hawaiian Affairs in response to Big Island rancher Harold "Freddy" Rice's claim that his constitutional voting rights were denied.

Since then, Honolulu resident Patrick Barrett and former Hawai'i Republican Party chairman John Carroll have each filed separate constitutional challenges to Hawaiian entitlements in federal court. The challenges have been consolidated into one case in the name of judicial economy.

Injunction sought

On March 12, a federal judge will hear Barrett's motion for a preliminary injunction to halt operations at OHA and the state Department of Hawaiian Home Lands.

Like many Native Hawaiians, Democratic lawmakers are watching what happens to U.S. Sen. Daniel Akaka's Native Hawaiian recognition bill, which is set to be reintroduced in the 107th Congress after dying last month.

As in the case of American Indian and Alaska Native tribes, the bill calls for federal recognition of Native Hawaiians as an indigenous group with a right to self-determination. It would then set a process to form a governing entity to do business with the United States.

"The bottom line is, many of us are supporters of the Akaka bill, and we are hoping our congressional delegation can preserve the rights and benefits due to the Native Hawaiian population that are being threatened, " said Matt Matsunaga, D-9th (Wai'alae, Palolo).

However, others fear that the political tides in Washington may not be as favorable to Hawaiian sovereignty as they were during the Clinton administration, particularly at the Justice Department, which plays a key role in indigenous claims for federal recognition.

Former U.S. Sen. John Ashcroft, an archconservative opposed to affirmative action and racial profiling, is likely to be appointed U.S. attorney general. And some Washington insiders say the post of solicitor general may be offered to Theodore Olson, the appellate lawyer whose arguments before the U.S. Supreme Court won Bush the election and won Rice the right to vote in OHA elections.

Lilikala Kame'eleihiwa, director of the Center for Hawaiian Studies at the University of Hawai'i-Manoa, said that Hawaiians would be wise to work with Republicans as well as Democrats in their pursuit of federal recognition.

That approach appeals to state Republicans, who have made no secret of going after the Hawaiian vote. Linda Lingle, who is running for governor in 2002, is reported to be lobbying for Hawaiian rights in Washington while attending the presidential inauguration.

In Hawai'i, two Windward Republicans are introducing bills to protect OHA and the state Department of Hawaiian Home Lands.

A measure by state Rep. Joe Gomes, R-51st (Waimanalo-Lanikai), would turn over the assets of the state Department of Hawaiian Home Lands, including its 203,000 acres, to an entity created by the trust's beneficiaries.

Trust formation considered

Meanwhile, Sen. Fred Hemmings, R-25th (Kailua-Waimanalo), has a bill that proposes to consolidate OHA and the state Department of Hawaiian Home Lands into a private trust.

State Rep. Eric Hamakawa, D-3rd (S.Hilo-Puna), chairman of the House Committee on Judiciary and Hawaiian Affairs, said those bills may be premature.

Any plans to transfer public money into a private entity would be subject to legal challenges if Hawaiians don't have federal recognition.

"If the Akaka bill passes and federal recognition comes, then we can set up an entity to hold those assets in trust," he said.

In the meantime, Hawaiian language-immersion students like Kuhia Arakaki, 13, one of more than 200 students from Palolo's 'ünuenue School who attended yesterday's rally, worries what will happen to her specialized education and her family's homestead lease.

"They're going to take everything we've got," she said.