Full texts of speeches by Senate President Robert Bunda, Senate Minority Leader Sam Slom, House Speaker Calvin Say and House GOP Leader Galen Fox.

Partisan rivals come out swinging
Hawai'i's grandest free lunch is back
By Robbie Dingeman
and Lynda Arakawa
Advertiser Capitol Bureau
The 21st state Legislature opened yesterday with a modest agenda that touched the hot-button issues of education, taxes and government-worker pay raises without proposing any revolutionary new approaches to tackling them.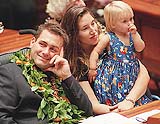 Freshman Rep. William Stonebraker shared his desk on the House floor with his wife, Keren, and daughter Rachel.

Richard Ambo • The Honolulu Advertiser

House Speaker Calvin Say, D-18th (Palolo, St. Louis, Kaimuki), supported raising the minimum wage and considering some form of gambling to support long-term care. But, Say acknowledged after the speech that the Democratic majority opposes any form of gambling, so the proposal has no chance of passage this year.

Senate President Robert Bunda, D-22nd (Wahiawa, Waialua, Sunset Beach), stressed the need for a diversified economy and encouraged developing eco-tourism and health and wellness tourism. Bunda also called for the consolidation of long-term care resources and balancing the burden of long-term care financing between the public and private sector.

Legislators, family members and friends packed the House and Senate chambers at the State Capitol for two hours of speeches and colorful entertainment yesterday morning.

In the House, representatives draped in maile and flower lei were each introduced, and marched to their high-backed black leather chairs on the House floor to the sound of hundreds of Native Hawaiian protesters chanting outside.

Despite the demonstration by Native Hawaiians, there were only a few passing references during speeches yesterday to issues that concern Hawaiians.

In his speech, Say backed Gov. Ben Cayetano's plan to turn Kaka'ako into a "viable center for research and education in high technology and biotechnology."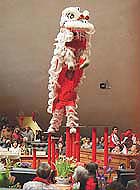 The Chinese Lion Dance Association performed on high towers in the House chamber.

Richard Ambo • The Honolulu Advertiser

Say also called for the state to ease the skyrocketing costs of prescription drugs. "Let us help the elderly among us by exploring methods to reduce drug costs and increase availability, such as joint buying programs or even tax credits."

House Republican leader Galen Fox, R-21st (Waikiki, Ala Wai), called attention to the 19 members of his party, the largest group to sit in the state House after adding seven representatives in the last election.

Fox echoed the GOP election themes of locally elected school boards, reducing the size of government and eliminating the general excise tax on food, rent and medical services. "Our excise-based tax structure hits low-income working people the hardest, people who have to buy food, pay rent and sometimes lack medical coverage."

Cayetano said he would favor exploring a tax credit on food and drugs rather than elimination of the general excise tax on those items.

"The tax credit is probably a better way to do it than to reduce the general excise tax because what it does is it focuses and gives the benefit to residents."

Lowell Kalapa, executive director of the Tax Foundation of Hawai'i, said a tax credit can be much more effective than eliminating a tax on certain goods and services.

"You can target those people who are in the lowest categories" to help ease the burden of the tax on those families who earn the least amount of money.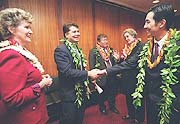 From left, Reps. Cynthia Thielen, David Pendleton, Ken Ito, Collween Meyer and Charles Djou wait to be introduced into the House chamber.

Richard Ambo • The Honolulu Advertiser

Bunda parted from Cayetano a couple of times during his speech on the issues of pay raises for public workers and school repairs and maintenance money.

"Governor Cayetano is also saying that we need not fund some of these (public worker) contracts because negotiators can be sent back to the bargaining table," he said. "Well, let me tell you, if we want to restore public confidence in government, we should find the means to live up to our end of the bargain."

Bunda also called Cayetano's proposal to spend $50 million a year on school repair and maintenance an impressive amount "on the surface" but in reality inadequate. He said he has asked Ways and Means Committee Chairman Brian Taniguchi to double the governor's amount to $100 million a year and called on senators to pledge to pay for it.

Senate Republican Leader Sam Slom, R-8th (Wai'alae Iki, Hawai'i Kai) called for "revolutionary change" based on moral principle rather than political rhetoric. "Some politicians have described their spending plans as visionary, but the public often views them more accurately as delusionary," he said.

Slom stressed the broad GOP themes including: autonomy for public schools and teachers, and civil service and collective bargaining reform. He also evoked applause and murmurs in the gallery when he criticized Cayetano's initiatives such as the $50 million Kaka'ako aquarium, saying a "government fish tank · may not be the wisest use of hard-earned taxable wages."

After the speeches, Cayetano said he has always supported paying teachers more. "If the Legislature wants to give them the 22 percent that they're talking about, then I'd like to know where it's going to come from."

He said he doesn't want to see the raises take money away from other deserving and needy programs. "I cannot support the drastic, devastating cuts in social services anymore so we would have to look elsewhere."

And Cayetano said he is wants to see that government improves when public workers get raises. He compared it to the seven days that were added to the school calendar when teachers got their last raise."For me the bottom line in any collective bargaining agreement with teachers is whether this agreement is going to help the kids and if it does, I'm all for it."

House Majority Leader Marcus Oshiro, D-40th (Wahiawa, Whitmore) announced the House Democrats will again press for a new privately built, privately operated prison in Hawai'i, and will boost drug treatment and intervention programs.

Cayetano said he had backed a privately built and operated prison in Hawai'i but moved away from that proposal because legislators had rejected such privatization. "But the fact that the House turned around on this, if they can get the Senate to agree, than I think that would be a big advance."

A malfunctioning fire alarm interrupted Say's speech in the House and a performance by the popular musical group Col—n in the Senate, prompting performer Jake Shimabukuro to joke that he may have played his ukulele too fast.

On the Senate side, Genoa Keawe drew huge applause for twice sustaining a high note for over 30 seconds, after which Senate president Robert Bunda stood and acknowledged her stamina.

Keawe's secret: "Take a deep breath and let it out slowly."