By James Gonser
Advertiser Leeward Bureau
WAI'ANAE — For more than two decades, Robert "Uncle Bobby" Maikai was more than just a friendly face at the Poka'i Bay boat launch ramp and the Wai'anae Boat Harbor. He was a beacon for everyone who ever fished or launched a boat along the Leeward Coast.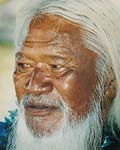 "Uncle Bobby" Maikai would make sure Leeward Coast boaters made it back safely.

Arriving early in the morning each day, Maikai would raise a hand to the boats and wish them good luck fishing. He spent his days talking with friends and sitting in his big blue-and-white Oldsmobile listening to his CB radio.

"He would always be at the harbor, and whenever the guys would go out in their fishing boats he would be there," said his hanai granddaughter, Laie Mamaril. "If somebody was not back and it was getting late, he would stay there and wait for them until they were safely back in the harbor.

"If they had any problems or needed to call their families, they would call him on the CB radio and he would take care of it," she said. "He felt it was his responsibility to make sure everyone got back."

Maikai, 83, died Jan. 7 and will be remembered at a memorial service at 9 a.m. Saturday at the boat harbor he loved so much.

Maikai, a retired truck driver, was born on Moloka'i. He was a member of the Wai'anae Boat Club, and he was remembered by Leeward anglers and boaters even if they didn't know his name.

Wai'anae Boat Harbor master William Aila was one of the people Maikai saw safely to shore over the years.

"The first time I met him was when my wife and I bought our first boat in 1982," Aila said. "We had stayed out a little bit later than we normally would and were coming in at about 8 p.m. and here was this gentleman we didn't know from Adam who waited for us to come home. He knew we were still out there and we were rookies."

After his wife, Abigail, died in 1983, Maikai slowed down, gradually losing his independence and stopped going to the harbor about two years ago, Mamaril said. He died peacefully in his bed, she said.

Maikai is survived by his son, Clarence Kaipo; daughters, Wilhelmina Naehu, Elaine Young, Viola Kauwe and Cecilia Nuuanu; hanai daughters, Yvonne Mamaril and Yvonne Villoria; hanai sons, Donald Kauwe, David and Daniel Keliiheleua; brother, John Keliiliki Sr.; grandchildren; and two great-grandchildren.

"Uncle Paul" Blakemore, his friend for more than 50 years, is setting up a tent for the services, and fishermen have donated a marlin to be served in Maikai's honor. His ashes will be scattered in the ocean near the harbor.