By Curtis Lum
Advertiser Staff Writer
Gustav Arthur Tafu Tupulo Hannemann III, a Mormon Church leader in Hawai'i and father of former City Council Chairman Mufi Hannemann, died Sunday in Honolulu. He was 89.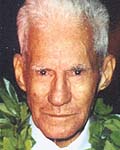 Gustav Hannemann was oneof the first Mormon bishops of Samoan ancestry.

Gustav Hannemann was born on April 3, 1911 in Lotopa, Western Samoa. His mother, Rosie, was the younger sister of Queen Makalita of Manua, the last queen of any of the Samoan Islands.

Hannemann was a teacher and principal in Samoa and came to Hawai'i in the early 1930s to receive additional training at Kamehameha Schools. He returned to Samoa, where he married Faiaso Soliai, who converted him to the Mormon faith.

Together, the Hannemanns went on many Mormon missions and helped open churches throughout Samoa. In 1953, the family moved to Hawai'i, where Gustav Hannemann would become one of the first Mormon bishops of Samoan ancestry, presiding over the Moanalua Ward.

Hannemann also worked at Sears, Liberty House and Foremost Dairies, but always had time for his family.

"My father was an outstanding example of a father that was never too tired to spend time with his children," Mufi Hannemann said. "He was the hardest working individual that I've ever met in my life. I recall as a youngster, as tired as he was, he always had time to help me with my homework. He always had time to come to my ballgames."

Nephi Hannemann added that his father's focus was on church and family.

"I can't recall him going to a movie, or a ballgame, or any kind of function alone. It always was a family outing or a church outing," he said.

Gustav Hannemann is survived by sons, Gustav "Gus" Miller, Nephi and Muliufi "Mufi"; daughters, Faiaso "Titi" Cecilia Dale, Vaofua "Va" Maughan, and Gafanua "Nua" Memea; 14 grandchildren; 12 great-grandchildren; and brother, Tausilinuu David Hannemann.

Visitation 5-9 p.m. Tuesday at the Honolulu West Stake Center of the Church of Jesus Christ of Latter-day Saints at 1723 Beckley St., service at 7 p.m.; burial 11 a.m. Wednesday at La'ie Cemetery.