By Curtis Lum
Advertiser Staff Writer
An O'ahu Community Correctional Center inmate celebrated his 37th birthday yesterday by bolting out of the Kalihi prison.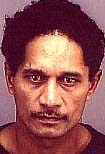 Kerbert Silva scaled a fence topped with barbed wire and is believed to have been cut while escaping.

Kerbert Silva was in the recreational area on the south side of the prison when he scaled a security fence shortly before 4 p.m., said Marian Tsuji, Department of Public Safety deputy director for corrections. Silva was last seen on foot near the prison.

Silva and other inmates were being led back into the housing area when he broke free, Tsuji said. She said he climbed over a 15- to 18-foot fence topped with barbed wire.

"We had initial reports that he was cut up," Tsuji said. "The tower saw him, but they weren't able to get a shot off."

Silva should be considered armed and dangerous and police advise the public not to approach him. He has prior convictions for abuse of a household member, assault and escape.

Silva was charged Jan. 8 with unauthorized control of a motor vehicle. Police said Silva has numerous tattoos and aliases, including Flash, Honeyboy, Scurm, Skarm and Michael A. Scurmdegale.

He is described as 5 feet 5, 160 pounds with a medium build.

Anyone with information on Silva is asked to call 911 or CrimeStoppers at 955-8300.