Escapee's girlfriend pleads for surrender
Map: Silva's escape route from OCCC
By Tanya Bricking
Advertiser Staff Writer
When Randy Kolii was 12 and living with his grandmother next to O'ahu Community Correctional Center, a fleeing inmate took off with his bicycle to aid in a prison escape.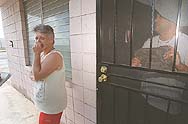 Linda Kolii adn her son Randy, behind the security screen door, live directly across the street from OCCC.

Bruce Asato • The Honolulu Advertiser

Sixteen years later, the 16-foot-high, double razor-wire fence across the street gives Kolii little peace of mind that he is safe from prisoners locked inside. Prison escapes are just part of living in the cramped Kalihi neighborhood.

"It looks secure. But it's intimidating when I look up and see them holding the guns," Kolii said of the corrections officers he can spot as close as the watchtower across Kamehameha Highway.

Prison officials say an unlocked or open security door in OCCC's recreation yard was the breach of security Wednesday that led to an inmate's escape.

Kerbert Silva had been in the recreation area for nearly an hour when he took his chance through the door, cut himself scaling a scissor-like fence and ran from guards who spotted him slipping away about 3:50 p.m.

Silva shed his green prison garb down to his shorts, officials said, and tried to stop motorists as he fled.

Less than a block away, Kolii, oblivious to the chaos at the time, was protected by his noisy watchdog, a malamute husky named Makana, and the comfort of knowing that at least an escapee isn't likely to stick around.

In Kalihi, a neighborhood where children pass the prison's razor-wire fence as they walk to and from Pu'uhale Elementary School about 25 yards away, little separates the prison from the auto body shops and aging apartments.

OCCC looks pretty much as it did in old episodes of "Hawai'i Five-0." It's a tired-looking complex with a maze of buildings, four watch towers, 1,023 inmates and 388 corrections officers. It is primarily O'ahu's pretrial holding center, where suspected criminals charged with anything from theft to murder await court hearings. Inmate housing varies in levels of security.

A $585,000 security system of 71 high-resolution video cameras installed last spring has improved the surveillance setup by replacing cameras that hadn't worked for nearly a decade.

But Warden Clayton Frank said no amount of cameras can make a prison escape-proof.

"Our job is the protection of the general public," he said. "This time, we failed our first mission, which is to protect the community."

When third watch began at 2 p.m. Wednesday, about 120 correction officers were on duty, including a guard in each of the watchtowers.

Silva was one of 83 inmates in the recreation yard on the south side of the prison. Usually, two guards patrol the recreation area, Frank said. On Wednesday, there was only one. When guards counted the passes for the inmates to get back inside at dinner time, one pass was left over.

It was Silva's.

Silva was sent to OCCC after being arrested Jan. 8 on an auto theft charge. He was awaiting trial and hadn't posted his $25,000 bail. He had been in and out of prison much of his adult life and already had an escape conviction on his record, in addition to crimes such as domestic abuse and burglary.

Wednesday was Silva's 37th birthday, and it was almost time for him to go back inside when he headed instead for the unlocked door and fence just beyond it in an area where the sliding part of the fence has less razor wire, Frank said.

A guard in tower No. 4 spotted him but didn't pick up his rifle to aim at Silva until after he alerted central control that there was an inmate scaling the fence, the warden said.

"It was like about three or four seconds, and he was over," Frank said. The guard told officials he didn't have time to get a good shot, he said.

Silva headed toward guard tower No. 3, just across from the elementary school on Pu'uhale Road, but when the guard inside opened his window as if to allow him to shoot his rifle, Silva turned around and went the other way, Frank said. Silva then headed toward Middle Street and was still on the run late yesterday.

"Our tower guards did what they were supposed to do. They saw the escape," Frank said. "Our policy is before a shot is fired, they have to make sure they have a clear vision.

"I wouldn't say I'm glad no shots were fired," he said. "I think, under the circumstances, no shots could have been fired."

Since 1992, 14 escapees from OCCC are still on the run. For the most part, "walkaways" trapped on the Island are caught, Frank said, yet some remain elusive or make it to the Mainland without detection.

Del Delizo, 30, who waited at a bus stop yesterday outside the prison, said he has the same safety concerns as the rest of the community, and he's part of the prison system himself because a drug charge landed him in a work-furlough program.

"It's public safety, isn't it?" said Delizo, of 'Ewa Beach, who wants tighter security at the prison. "I have family out there as well."

In the wake of last month's prison outbreak in Texas, in which seven convicts escaped from a state prison and are suspected of killing an Irving, Texas, police officer during a Christmas Eve robbery, OCCC's warden said he has warned his staff not to become complacent.

In the working-class neighborhood surrounding the prison, neighbors hostage to the same wire fences live with no guarantees.

"I been here 20-something years. Only one time one runaway run straight by," said Dana Cheng, who owns C&H Body & Fender across the street from the prison. "They caught him."

Keolakhone Khamsouk, 33, is a little more worried about keeping her four children safe from harm. They go to school at Pu'uhale, within shooting distance of watch Tower Three.

In broken English, the words she speaks most clearly are that she is scared.