Prison breakouts concern neighbors in Kalihi
Map: Silva's escape route from OCCC

By Brandon Masuoka
Advertiser Staff Writer
A longtime girlfriend of escaped inmate Kerbert Silva pleaded for him to surrender yesterday and hoped that he wouldn't do anything to get himself hurt.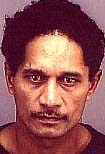 Anyone with information on prison escapee Kerbert Silva should call 911, CrimeStoppers at 955-8300 or the Oahu Community Correctional Center at 832-1474.

Advertiser library photo

Kerbert Silva, who has a history of domestic abuse and auto theft, escaped from the O'ahu Community Correctional Center on his 37th birthday by scaling a 16-foot-high fence topped with barbed wire on Wednesday afternoon.

It was his second escape from the same facility. On Aug. 26, 1987, he ran free through the prison's mess hall, according to police.

"The best thing he can do is to turn himself in," Stella Makekau, Silva's girlfriend of more than 20 years, said. "I don't want him to get hurt."

Makekau, 39, filed a temporary restraining order against Silva on Nov. 22, 2000, and police served the order eight days later, according to court documents.

In the document, Makekau said Silva physically and verbally abused her and tried to control her life, saying Silva wanted to know "where I go" and "who I am with."

Yesterday, Makekau said she was staying indoors and watching the police cars drive around the Nanakuli neighborhood. She said Silva has not contacted her.

"I got assurances from the police, they're patrolling around here," said Makekau, who has two children, a 8-year-old son and 21-year-old daughter.

Silva had been in custody since his arrest Jan. 8 on a charge of auto theft, police said.

O'ahu Community Correctional Center warden Clayton Frank said officials are still trying to figure out what prompted Silva to risk injury or death by escaping.

"We have quite a bit of razor wire there," Frank said. "But besides the razor wire, (escapees) also run the risk of getting shot. A lot of times when a person makes up his mind, the risk factors become very minimal."

Silva has 10 convictions for domestic abuse, escape, auto theft, burglary and theft, according to the Hawai'i Criminal Justice Data Center.

Anyone with information on Silva should call 911, CrimeStoppers at 955-8300 or the Oahu Community Correctional Center at 832-1474.