Latest updates from the Associated Press
By Tanya Bricking
and Karen Blakeman
Advertiser Staff Writers
Filipino cable news blared from offices at the Philippine Consulate General in Hawai'i as local transplants joined a government turning against ousted leader Joseph Estrada.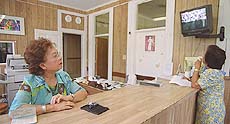 Myra Valero, left, information officer at the Philippine Consulate, watches the latest developments in Manila with businesswoman Margarita Suyat.

Eugene Tanner • The Honolulu Advertiser

In local Filipino homes and restaurants, Hawai'i's fastest-growing ethnic group kept up with news 4,500 miles away by staying glued to the television that showed the uprising against Estrada, a former movie star who has been beleaguered for months by corruption allegations.

"We're worried that this will get out of hand and there will be violence," said Myrna Valero, a Filipino citizen assigned to the consulate who has been watching news from her homeland day and night.

"I talked to my husband," she said. "He's trying to tell me that everything is going to be fine. But that is the advice of a relative who doesn't want you to worry. The television is telling you otherwise."

Even Consul General Rolando Gregorio lashed out at Estrada and said the consulate is taking the side of the public that wants Estrada removed from power. Gregorio said he doubted Estrada would seek asylum in Hawai'i, because the political climate has changed from the time the late Ferdinand Marcos fled here in 1986.

"We go with the sentiment of the people," Gregorio said.

Marine Maj. Sean Gibson, a U.S. Pacific Command spokesman at Camp H.M. Smith, said although there were U.S. military aircraft and nearly 200 Air Force personnel in the Philippines as the political drama unfolded in Manila, their presence was unconnected to Estrada's troubles.

The airmen were there, he said, as part of a joint military exercise, part of an ongoing military cooperation between the United States and the Philippines.

"We're working to get them out of there now," Gibson said. "Within the next 48 hours."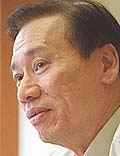 Consul General Rolando Gregorio said he doubted Estrada would seek asylum in Hawai'i.

Eugene • The Honolulu Advertiser

The aircraft participating in the exercise are MH-53J special operations helicopters — designed for long-range, low-altitude operations in darkness or bad weather — and C-130 airplanes modified to act as refuelers for the special operations helicopters.

The airmen will be returned to their home base in Okinawa, Gibson said.

Demonstrations in the Philippines have been nonstop since Tuesday's collapse of the Senate impeachment trial. Estrada saw the end nearing as one government official after another turned against him, and the military and police sided with the opposition.

Vice President Gloria Macapagal-Arroyo was sworn in as president at noon Saturday (6 p.m. Hawaii time yesterday), but an Estrada spokesman said he had not signed a resignation.

E-mail updates

Peter Xenos, formerly a sociologist at the University of the Philippines and now with the East-West Center in Honolulu, watched closely as Estrada's power faded and Macapagal-Arroyo's star rose.

The television in the Xenos house is tuned to the Philippines cable station nearly 24 hours a day. At work, Xenos checks Filipino Web sites and gets updates by e-mail. His conversations with colleagues, both in Hawai'i and in the Philippines, center on the rapidly changing political situation.

"There isn't anything else to talk about, is there?" Xenos asked.

Xenos is particularly interested in Macapagal-Arroyo. He was on her thesis committee when she earned a master's degree in economics at the University of the Philippines.

"I got the impression she thought of herself as one of those people who was born to lead, who fully expected to be running the show," he said.

Macapagal-Arroyo, daughter of a former Philippine president, was tuned more into politics than economics and seemed disinterested with her thesis committee, Xenos said.

She nonetheless was bright enough to complete her master's degree and move on to Georgetown University, where she was a classmate of Bill Clinton. She eventually gained her Ph.D. in economics.

Xenos said his friends and colleagues in the Philippines consider her a typical politician, which worries them because it means she will be "constantly running around, kissing up to various groups."

On the other hand, he said she is considered competent, has not been associated with any of the perceived corruption that brought down the Estrada administration, and seems politically moderate enough to keep everyone working together.

Poverty rampant

Gerry Finin, an East-West Center specialist in affairs of the Philippines, said he doubted she would be moderate — or liberal — enough to address the most pressing problem in the Philippines. Poverty is rampant and is likely to remain so.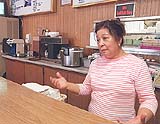 Cerasmina Ruiz, the owner of Elena's restaurant on North King Street, said she hoped President Estrada would resign his office.

Eugene Tanner • The Honolulu Advertiser

Macapagal-Arroyo is a member of the nation's elite, Finin said. He said he was afraid she would be more likely to support her colleagues than meet the needs of the Filipino poor.

"I feel sad," said Cerasima Ruiz, owner of Elena's, a Filipino diner in Kalihi, where the television was tuned to the protests. "Filipino people are one. This is exciting. At the same time, you feel lonely. Millions of people are on the streets. Imagine, for two days, they are there — no sleep, no food."

Raymund Liongson, who teaches Philippine studies at Leeward Community College, said he found that part exciting.

"This is the spirit of democracy," he said. "This is the power of the people."

Liongson, who moved to Hawai'i in 1989, was a part of an earlier people power movement in the Philippines; he was one of the millions who took to the streets against Ferdinand Marcos in 1986.

"Here it is happening again," Liongson said. "People Power Two."

"I am very proud of the people of the Philippines," he said. "This is a lesson for the world: The people can assert their power, even against the powers and influence of the presidency."

Divided opinions

But even here, there is no consensus among Filipinos about how to resolve the political crisis back home.

In Chinatown, at two side-by-side Filipino food stands in Maunakea Marketplace, two women quietly disagreed yesterday.

On one side, Dolores Josue of Lito's Filipino Fast Food said Estrada was a good man and a good president who should remain in power. On the other side, Naty Fuentes of Naty's Kitchen wanted a new regime.

At the consulate in Nu'uanu, Bey Lontoc, assigned here from the Philippines, sided with the anti-Estrada protesters she watched on television. But Margarita Suyat, a U.S. citizen and travel agent in line at the consulate for paperwork, took Estrada's side, likening it to the anti-Clinton movement after the Monica Lewinsky scandal. Suyat was a staunch Clinton supporter as well.

Suyat's biggest concern was for the safety of her sister in Manila and whether to advise her traveling clients to stay here and avoid the fray in the Philippines.

"I'm worried now," Suyat said. "Looks like to me this is worse than the People's Power" movement during the Marcos regime.