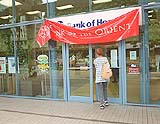 This was the scene on Oct. 14, 2000, when Bank of the Orient took over Bank of Honolulu's Kapi'olani branch. Three months later, the branch is being closed. See story.
Advertiser library photo
Palm M100 giveaway
Click! is giving away a Palm M100 handheld computer. Enter here.
Hawai'i businesses monitoring California power crisis
Experts said yesterday it is too early to tell if California's power crisis will affect Hawai'i's economy. But if the shortage causes the California economy to founder, Hawai'i and other states could also stumble.

Bank of the Orient to close Kapi'olani branch
Bank of the Orient will close its Kapi'olani branch on March 14, the second branch the bank has closed in Hawai'i since acquiring Bank of Honolulu and its four branches late last year.