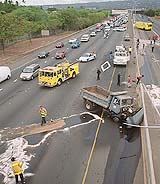 A city dump truck crashed into a freeway median near the Radford overpass yesterday, shutting down the Zipper lane and snarling morning traffic in the eastbound lanes for more than two hours. No one was hurt in the accident, which took place shortly before 9:27 a.m. Officers were forced to close three regular lanes as well as the Zipper lane because of concrete debris Police reopened the lanes more than two hours later.
Bruce Asato • The Honolulu Advertiser
Isles' Filipino community absorbed by crisis in homeland
In homes and restaurants, Hawai'i's fastest-growing ethnic group kept up with news 4,500 miles away by staying glued to the television that showed the uprising against President Joseph Estrada.

Audit traces special education costs to poor oversight
The state's lack of a clear definition for which children are eligible for special-education services is opening the floodgates for services and driving up costs, the state auditor said.

Florida firm loses Hawai'i military contract
Saying the Army incorrectly inflated an in-house bid, a military appeals board yesterday reversed a decision that had given control of more than 200 civil service jobs to a Florida defense contractor.