By William Cole
Advertiser Courts Writer
Former state Sen. Marshall Ige yesterday said he would plead "absolutely not guilty — on all counts" to his criminal case filed this week that includes charges of first-degree theft, attempting to evade taxes and money laundering.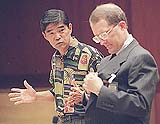 Former state Sen. Marshall Ige says he will plead not guilty to theft, tax evasion and money laundering charges. Deputy Attorney General Kurt Spohn is at right.

Richard Ambo • The Honolulu Advertiser

The five-count criminal complaint by Attorney General Earl Anzai accuses Ige of taking $30,000 in 1998 from a Beverly Hills couple in exchange for Ige's promise to pull strings and expunge their daughter's criminal record here. Ige never did, and never paid taxes on the money, the complaint alleges.

Ige's initial arraignment on the charges was postponed yesterday in District Court when he showed up without an attorney.

"I'm having a difficult time finding legal counsel," Ige told Judge Christopher McKenzie, who continued the case for two weeks. Outside the courtroom, Ige said he would plead not guilty.

Ige also is charged with second-degree theft and second-degree extortion stemming from a separate incident in which he allegedly threatened a Vietnamese orchid farmer with eviction unless he paid him $7,000.

Ige, who lost his Senate seat representing Kane'ohe and Kailua to Democratic challenger Solomon Nalua'i in September's primary, last year also was charged in an unrelated case with seven misdemeanor campaign spending violations. He is scheduled to go to trial on those charges next month. Ige has maintained he is innocent.

Michael McCarthy, Ige's attorney on the campaign charges, said yesterday morning he was not representing Ige in the new case, but he characterized the latest charges as a "whole series of civil claims they are painting as criminal claims."

"If you owe somebody money and you don't pay them back, in my mind as a lawyer, that's a far cry from a criminal event," McCarthy said.

Deputy Attorney General Kurt Spohn declined to comment about the case.

Honolulu attorney Norman Lau, who represents Morris and Rita Wolfred of Beverly Hills, yesterday said his clients won a stipulated settlement in a California court calling for Ige to repay the couple $21,400.

Ige had repaid some of the $30,000, and the $21,400 represented the balance, Lau said.