Notes: Fun is gone for Tour's guitar man
Scoreboard
Today's tee times
Advertiser Special: The Sony Open

By Ann Miller
Advertiser Staff Writer
In a trifecta even Brad Faxon admits blows his hyper-active mind, he leads the Sony Open in Hawai'i, after opening with successive rounds of 6-under-par 64, and has more eagles (four) than any PGA Tour golfer on the planet this year.
Faxon was asked the last time he opened 64-64.
"When was the last time?" Faxon said with a grin. "This is the first time."
His grin grew when he mulled his four eagles in 2001.
"I had five all last year," he said. "I think."
His five-shot lead over six others going into today's third round is the final mystery. Wai'alae Country Club has not been kind to him. Aside from reaching a 1996 playoff, which he eventually lost to Jim Furyk, Faxon's finest memories involve ambience, not artful play.
But the tour's premier putter — Faxon has won three putting titles since 1996 — has finally found paradise on Wai'alae's pure greens.
Yesterday was a continuation of Thursday's brilliance, the only difference being a lone bogey. Faxon gathered five birdies and closed, again, with a six-foot eagle putt.
"To shoot 64 here twice is unbelievable," said Faxon, who has played the two par-5s in 6 under. "I'm very happy. I feel I drove it well again. When I didn't hit a good drive, I hit some great scramble putts. Made one long one. Kept my composure, kept everything together, feel comfortable out there."
This is the first time since he lost the playoff that Faxon has made a cut at Wai'alae. At 12 under, he is precisely where Paul Azinger was halfway through his emotional wire-to-wire win last year.
Faxon made his move
Azinger eventually won by seven, at 19-under 261. John Huston's tour-record 28-under score here three years ago — before Wai'alae was shortened to par-70 — was 260.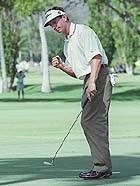 Brad Faxon is pumped after sinking a 6-foot eagle putt on his final hole of the day for 64 and a five-stroke lead in the Sony Open in Hawai'i.

Gregory Yamamoto • The Honolulu Advertiser

Faxon has won events the past two years, but hasn't led at the halfway mark in nearly four. Yesterday, he was shocked to see no one make a move on him.

"The scores didn't seem as low as they were yesterday," Faxon said. "I thought I'd see more guys climbing that board. Before I made the turn I was 7-under par and no one was in front of me. That was surprising."

John Daly (72) and Larry Mize (71), who shared the lead with Faxon Thursday, fell back. Peter Jacobsen turned a nearly windless first tee time (7:20 a.m.) into a bogey-less 64, but is still five back.

"That is a great time," Jacobsen said "The greens are freshly cut. These greens are in great shape anyway. They putt as true from the first guy out to the last guy off. Always have, probably always will."

Jacobsen gives chase

Jacobsen, 46, is playing on a sponsor's exemption after falling out of the Top 125 last year. Waikoloa's longtime representative has struggled with injuries and swing adjustments the past three years and hasn't won — if you don't count his U.S. Open championship in the movie "Tin Cup" — since 1995.

He can't remember missing a tournament here in his 25 years on tour. But his best finish was a tie for fourth, 18 years ago. He won $12,800, which is about what he would get for 45th in this era of $4 million purses.

This morning, Jacobsen is among a chase pack at 133 that includes South Africa's Ernie Els (65), Paraguay's Carlos Franco (67), Australia's Bradley Hughes (66), Tom Lehman (67) and Furyk (67), who is coming off a victory at last week's Mercedes Championships on Maui.

Huston is another shot back.