By Stephen Tsai
Advertiser Staff Writer
In an 11th-hour decision, the UCLA men's volleyball team outlasted Hawai'i, 31-29, 20-30, 30-27, 42-44, 15-9 to win the Outrigger Hotels Invitational last night in the Stan Sheriff Center.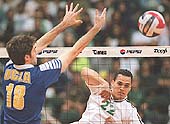 Torry Tukuafu hits past the block of UCLA's Adam Naeve in game 1.

Eugene Tanner • The Honolulu Advertiser

A smack-talking, sign-waving crowd of 5,659 saw the Bruins finally put away the feisty Warriors in a match that ended at 11:28 p.m.

"This feels really good," said UCLA hitter Adam Naeve, who signed post-match autographs for several fans who heckled him the entire night. "It's great to win here, especially in front of that crowd. Everybody knows we're the bad guys."

UCLA, the 18-time NCAA champion, has been an itch UH has not been able to scratch. The Bruins have won six of the seven meetings in this round-robin tournament, including the last four.

In this week's tournament, all of the Bruins' matches went five games. But none was as pulsating as last night's, particularly the fourth game. There were 20 ties, and the Bruins played for match point four times.

"I've played a lot of matches," said Naeve, who was a member of the national team last year, "but that fourth game was something else."

But it appeared the game took its toll on the Warriors, who were overwhelmed in the final game.

The Bruins, spurred by a dominating block, scored eight of the match's final 11 points.

After the match, the tournament's most valuable player, UH's Costas Theocharidis, stormed into the hospitality area, cursing himself. After cooling off, Theocharidis, his eyes a bright crimson, said, "It's so frustrating. I thought we should have won. I did not do enough to lead our team. We made too many mistakes."

In the first game, the Warriors blew several four-point leads, and Theocharidis served long at game point.

In the third game, with the score tied at 27, Theocharidis was stuffed by a double-block. His next shot sailed long.

Meanwhile, the Bruins' tough serving led to chaotic results. The Warriors struggled to start their offense, and they often hurried their passes. The Warriors, who relinquished four aces in their first three matches, gave up seven last night.

"We're very disappointed now," UH middle blocker Brenton Davis said. "But we know it's early. This was only our fourth match, and we have a lot of new players (setter Kimo Tuyay and libero Vernon Podlewski). We'll play (UCLA) two more times in the regular season, and those are the matches that will really count."

The Bruins, by far, had the most imposing block the Warriors will hit against this year. Naeve is 6 feet 10, Cameron Mount is 6-8 and Matt Komer is 6-7. What's more, the Bruins were without outside hitter Mark Williams, who sprained his ankle during warmups Wednesday night. Williams said he will be sidelined for another four weeks.

Naeve led the Bruins with 17 kills.

Five Warriors were in double digits in kills, led by Theocharidis' 22.