By Dan Nakaso
Advertiser Staff Writer

Two days before he killed his ex-girlfriend and died in a police shootout, Michell Udani unrolled a windbreaker and showed his best friend a sawed-off shotgun he had kept hidden.

Udani had told his friend that strange men in a Honda - men with a gun - were looking to do him harm. And he had said he needed the shotgun for protection.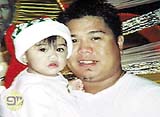 Friends say Michell Udani, 26, longed to be with daughter Leeona Elizabeth to the last day of his life.

Photo courtesy KGMB 9 News

Udani, 26, also told some of the people around him that last Sunday he was going to fly to San Diego, or San Jose, to live with his sister. He told others that on Tuesday he would be moving to Alaska.

Either place would have put distance between Udani and Cherry Ann Cachola Domingo. She was the 25-year-old LensCrafters manager with whom he'd had a troubled two-year relationship that had once held the promise of marriage and had produced a daughter named Leeona Elizabeth.

In the two weeks before the shooting, Udani's friends say he was surrounded by rejection and depression and danger, real or perceived. They don't defend him or condone his actions, but say his last days offer insight into his frustrations and perhaps some of the thoughts running through his mind.

"You don't know what somebody's breaking point is," said Dawn Orellanacruz, who spent much of the last two weeks of Udani's life with him. "He just snapped. He lost total control of reality. But we never saw it. He was just hurt."

The pain ended Jan. 13 with Udani and Domingo dead from gunfire in the Ala Moana Shopping Center parking lot. It was the night before Udani was supposedly leaving Hawai'i.

Witnesses saw him beating Domingo in the white Mercedes-Benz sport-utility vehicle that her parents helped her buy. Udani then shot her twice in the head with a shotgun - from perhaps 6 inches away. Five police officers fired at Udani as he tried to run away and one bullet hit him fatally in the chest.

"We'll never know what was in his mind," Honolulu police Lt. Gregory Poole said last week as investigators reconstructed the details.

Turbulent love

Udani and Domingo met two years ago while waiting in line at a Restaurant Row night club. That night, Udani kept telling his friend Flavio Orellanacruz that she seemed nice. Later, he told his friend Stephen Diones, "I met this chick and she pretty li'dat."

Domingo soon became pregnant. When she was three months along, Udani asked her, aboard an interisland fight, to be his wife. He even bought her a $3,000, one-karat, princess-cut ring he couldn't possibly afford as a part-time construction worker.

It seems that they could never settle in one place. First they moved in with Udani's sister in Mililani. Then they tried living with Domingo's family in Waipahu.

Months passed. Domingo's belly grew larger with the baby, and Udani had trouble finding work. They argued about money. And as the months passed, they still had not set a wedding date.

"At first he was working and stuff, and then he stopped working, and that bothered her," said Domingo's sister, Trisha. "He didn't have much of a future."

On Dec. 2, 1999, the baby came. Domingo did not list a name for the father.

Udani complained to some of his friends that he only found out about the birth certificate by checking government records. But state officials say Hawai'i privacy laws wouldn't have allowed him access to the document.

His friend Diones had a different version. "He had to go down to the place you get the birth certificate and they wouldn't release it to him because his name wasn't on it. That's how he found out."

Domingo's sister, Trisha, said it was Udani who didn't want the responsibility of being Leeona Elizabeth's legal parent.

"He was mad because his name wasn't on the birth certificate," Trisha said. "She goes, 'If it's really bothering you, let's put your name on.' He said he didn't want to."

In November, after they had been engaged for 10 months, Domingo finally broke it off.

"Early on, there weren't that many problems," Dawn Orellanacruz said. "After they broke up, that's when the games really started."

Delighted with daughter

Udani told friends that he looked up a marriage license that showed Domingo was already married. State officials say that's impossible because the document, if it existed, was not a public record. Domingo's sister called his story "a lie. She was never married."

Everyone does agree that Udani kept longing to see his daughter.

"There were incidents where he would call Cherry late at night and say, 'I can't sleep without Leeona. Can you bring her over?' He would say things like he would kill himself if he didn't see her," Trisha said. "She would say, 'Hello, it's late at night.' But she would drive over in the middle of the night anyway."

Udani would sometimes bring Leeona Elizabeth to the Orellanacruz' condominium in Mililani, the baby in his arms and a diaper bag stuffed with toys over one shoulder. He would roll around on the floor with her, sometimes simply marveling at his daughter.

In the two weeks before the Ala Moana shootings, Udani told his friends that Domingo kept canceling plans at the last minute for him to see the baby. Domingo's family said Udani simply failed to show up.

From frustration to violence

On Jan. 6, about a week before Udani told friends he was leaving Hawai'i, Udani said Domingo again changed his plans with Leeona Elizabeth when he sought to see her one night. Udani said Domingo wanted to stay home with the baby.

Udani thought it was an excuse. So he and Flavio Orellanacruz drove from Mililani to see if Domingo was at the Pipeline Cafe in Kaka'ako.

There, at about 1 a.m., they found Domingo and her friends and cousins drinking, Orellanacruz said.

Orellanacruz had to be at his job driving a refuse truck by 3 a.m. and was sleeping in the back of his white Mustang when Udani returned from the club.

"He said he pulled her hair because she didn't want to talk to him and she saw a police car and started screaming," Orellanacruz said. "He wasn't talking crazy."

The cousins offer a more violent account. They said Udani chased them down the street, grabbed Domingo in a headlock and dragged her down the sidewalk for more than a block. The rest of the women flagged down a police officer.

They then convinced Domingo to seek a temporary restraining order, which was granted Jan. 9. If Udani were aware of the court order, he never mentioned it to friends. Police say it was never served because Udani could not be found.

Gunfire and fear

The Sunday morning after the confrontation at Pipeline, Udani told his friends that Domingo wanted to meet him at a park in Waipi'o. When Udani arrived, he later told his friends, Domingo was in a Honda with some men.

Udani drove by and said he heard a gunshot. The next day - Jan. 9 - Udani visited his friend Diones in Pearl City. "He said somebody shot at him," Diones said. "I said, 'eh, brah, you better call the cops.' He said he was getting crank calls, and somebody was throwing beer bottles at the house."

On Jan. 11, Flavio Orellanacruz picked up Udani at his sister's home in Mililani. Udani came out carrying something wrapped in a windbreaker and put it in the trunk of the Mustang.

During the ride to Orellanacruz's condominium, Udani said he had borrowed a shotgun from a friend. And it was in the trunk.

"As soon as I saw it, I got goose bumps," Orellanacruz said. "I said, 'You're not going to do something dumb, are you?'"

Udani told Orellanacruz about the men in the Honda. Orellanacruz had his doubts about the story until the next day, when he and Udani were walking Orellanacruz's dogs at a Mililani park. A white Honda raced by and somebody inside shouted something in their direction, Orellanacruz said.

Orellanacruz could see the fear in his friend's eyes. "These guys are going to shoot me," Udani said.

That afternoon, Orellanacruz drove Udani from Mililani to pick up Leeona Elizabeth at Ala Moana.

"He was so happy talking about the baby," Orellanacruz said. "He was saying, 'Flav, Flav, you've got to see her teeth.' "

As Udani rode in Orellanacruz's Mustang, his thoughts focused on his daughter, Udani's cell phone rang and his mood suddenly changed.

"I could see the difference between night and day," Orellanacruz said. "He was like, 'She changed her mind.' He was upset. He didn't want to do anything after that."

Final encounter

On Jan. 13 - the day of the shootings - Udani again made plans to see Leeona Elizabeth. Domingo told her family that Udani would be coming by the house in Waipahu to pick up the baby.

"My sister was saying, 'I'm going to give Lee to Mike.' We were like, 'hell, no,' " Trisha said. "She was telling us that everything was good for some reason. Maybe he was just being nice to her because he was leaving."

Udani told his friends that Domingo later changed her mind, crushing his final chance to see Leeona Elizabeth before he moved away. "That's pretty hard to take," Orellanacruz said. "You're leaving and you can't see your baby one last time?"

Trisha saw it differently.

"My mom kept calling my sister, saying 'Hello. How come Mike never come pick up Lee?' "

Then in the evening, Udani was supposed to join Flavio and Dawn Orellanacruz at a new bar at Ala Moana Shopping Center. But Flavio had bruised his ribs at work that morning and was too sore to go out.

When they talked on the phone around 9 p.m. Udani didn't seem upset that, once more, his plans had been canceled.

"He just said, 'OK,' and hung up," Orellanacruz said.

An hour later Udani and Domingo were dead.

Udani had ended up going to Ala Moana Center after all.

He had made plans of his own.