By Timothy Hurley
Advertiser Maui Bureau
OLOWALU, Maui — Wildfires scorched nearly 600 acres of brush and stranded hundreds of motorists yesterday as authorities closed the main road that links West Maui to the rest of the island for more than seven hours.
Trade winds gusting up to 60 mph fanned the flames in the afternoon, and the fire remained out of control last night. But the Maui Fire Department reported making progress as the winds diminished after sunset.
"It looks like they have a handle on it," Maui Fire Capt. Frank Tam said last night.
The fire burned an area between Olowalu and Launiupoko. It started at about 9:30 a.m. at the 1,200-foot level and worked its way down to the Honoapi'ilani Highway, the road that connects the resort areas of West Maui to Central Maui.
There was early speculation that a downed utility wire sparked the flames, but that could not be confirmed last night.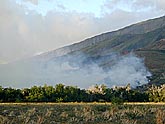 Traffic backed up for miles on Honoapi'ilani Highway around two road closures caused by wildfires. The roads reopened after seven hours.

Tim Hurley • The Honolulu Advertiser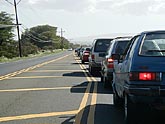 Wildfires burned through 600 acres between Olowalu and Launiupoko on Maui yesterday.

Tim Hurley • The Honolulu Advertiser

The highway was closed from about 10:30 a.m. to 5:40 p.m., backing up traffic for miles on either side of the road closures, one near Launiupoko, the other at Ma'alaea.

The American Red Cross opened evacuation shelters at the Lahaina Civic Center and at the War Memorial Gym in Wailuku, but closed them a couple of hours later, after the road reopened.

Three engine companies, a tanker and four helicopters with water buckets fought the blaze over former sugar cane lands and steep terrain. Firefighters also brought in four bulldozers to cut fire breaks. Flames came within 500 yards of a piggery, Tam said, but small communities in Olowalu and Launiupoko were not threatened.

The highway closure was bad news for residents and tourists.

"I'm from L.A., and I never expected traffic like this," said Bill Morrison, whose car was stuck in line near Olowalu, heading in the Lahaina direction. "This has been a great vacation until today."

Ian and Laurie McNeil of Danville, Calif., missed a 2:30 p.m. tee time in Kapalua, but weren't complaining too loudly.

Ian finished a book and practiced his golf swing in the grass on the side of the road near Olowalu while his wife wrote post cards.

Patrick Callarec, chef and co-owner of Chez Paul restaurant in Olowalu, was expecting to serve a private party last night, "if they're able to make it."

"It's been one of those days."