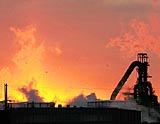 Steel producer LTV Corp., with plants in the industrial flats in Cleveland, filed for bankruptcy protection late last year, but a last-minute financing deal with Chase Manhattan Corp. averted the shutdown of any facilities.

Advertiser library photo • Dec. 29, 2000
Economic index falls again
A key gauge of U.S. economic activity plunged 0.6 percent in December, the largest drop in five years and a signal of continued weakness in the U.S. economy.

Nation's steelmakers bending
Nine U.S. steel companies went bankrupt in the past two years. Only 10 percent of the nation's steel manufacturers made money in the fourth quarter. Since 1998, 15,000 workers have lost their jobs.

Bankoh offering flier miles to clients
Airline miles, that virtual currency consumers earn for doing everything from using their credit cards to filling up their gas tanks, are replacing cash rewards at one Hawai'i bank.