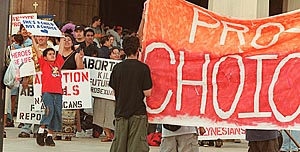 Pro-lifers rallied at the state Capitol and across the country to protest legalized abortion. They met a handful of pro-choice demonstrators.

Deborah Booker • The Honolulu Advertiser
By Dan Nakaso
Advertiser Staff Writer
Hawai'i's abortion opponents cheered yesterday and abortion rights supporters booed as President Bush signed an executive order that affirmed his plans to act on his stance against abortion.
But even as they met outside the State Capitol yesterday, people on both sides agreed the debate probably would remain civil around the Islands even as the rhetoric heats up on the Mainland.
"We've never had problems with picketers outside my clinic, hate mail or people accosting our patients — and I don't see any reason why we should now," said Beverly Morton, director of clinical operations at Family Planning Centers of Hawaii, formerly Planned Parenthood. "Hawai'i, being a liberal state, our attitude is 'live and let live.' "
Both sides of the abortion debate brought their voices to the Capitol, joining the rest of the country in marking the anniversary of the 1973 Supreme Court's decision legalizing abortion in Roe v Wade.
Hawaii Right to Life organized a cordial sit-down presentation of speakers, hula dancers and singing. About 50 yards away, a dozen counterdemonstrators from the pro-choice group Refuse and Resist protested as Liz Rees yelled through a bullhorn, "Not the church, not the state! Women must decide their fate!"
Police kept the two sides apart, and Hawaii Right to Life members urged the 200 or so who gathered at their rally to ignore the demonstrators.
John Long, the group's new executive director, arrived in the Islands just over a week ago from Fresno, Calif. He said he had heard that some abortion-rights supporters could be loud and disruptive, but the climate remains calm overall. Violence or threats on either side "is just not the nature of the people involved," he said.
"My impression is that Hawaiians on the whole are pro-family," Long said. "Hawaiians are family-oriented."
Human-rights issues
Morton and Long disagree on where the majority of people in Hawai'i stand on the issue.
Hawai'i became one of the first states, in 1970, to legalize abortion, which Morton characterized as evidence that most people here are pro-choice.
Long looked instead at the nearly 70 percent of voters who shot down the hopes of same-sex marriage proponents in 1998 and approved a constitutional amendment authorizing the Legislature to define marriage as a union between a man and a woman.
Morton counters that the same-sex marriage vote has nothing to do with attitudes toward abortion.
"They both are human-rights issues," she said. "A lot of the people who are pro-choice voted against same-sex marriage. But I don't think you can lump them as a single issue."
Yesterday, in his first major policy act as president, Bush reversed the Clinton administration's position on unrestricted aid for family planning. A memorandum he signed bars giving federal money to international groups that support abortion, either through performing the surgery, offering counseling on abortion as a family-planning option or lobbying foreign governments on abortion policy.
Events in Washington could add support to abortion-related bills in the state Legislature, such as parental consent requirements for teen abortions, Morton said. So far such bills have died or been stalled in committee, she said.
After leading the pledge of allegiance, Steve Holck, vice president of Hawai'i Right to Life, closed with a yell: "And we have a pro-life president!" The crowd cheered.
"We've been suffering for eight years with a pro-abortion president," Holck said later. "Now we finally have a president who is pro-life."
A demonstrator who gave her name only as "Rice" saw Bush's move yesterday as a threat.
"Now that Bush is in office," she said, "a woman's right to abortion is in jeopardy."
The Associated Press contributed to this report.