Advertiser Staff
Two Kahalu'u homes were damaged yesterday morning in a fire that probably began with the spontaneous combustion of oil- and gasoline-soaked rags in a work shed, fire department spokesman Capt. Richard Soo said.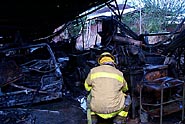 A firefighter investigates the blackened wreckage of a car and other personal property destroyed when a fire, apparently ignited by spontaneously combusting oily rags, seriously damaged two Kahalu'u homes.

Honolulu Fire Department

The fires, at 47-224 and 47-218 Miomio Loop, were reported at 10:32 a.m. and were under control within 20 minutes after firefighters arrived.

A 47-year-old woman and her 12-year-old son were at home when the fire began and escaped without injury, but their three-bedroom home sustained $5,000 in structural damage and $2,000 damage to its contents.

The Red Cross was assisting the family of five.

The fire jumped to an adjacent home, where two 19-year-old men share a studio apartment. They were not home at the time. The fire caused $15,000 damage to that structure.

Four engines, two ladder companies and a battalion chief responded to the fire. Two hazardous materials vehicles were requested because two propane tanks were in danger of exploding.