Cheerleaders finally recognized as athletes
High school standings
High school sports calendar

By Dennis Anderson
Advertiser Staff Writer
Shanel Vivas is one of the best high school girl wrestlers in Hawai'i. She took third place in last year's state championships in the 103-pound division.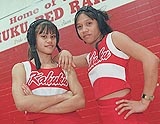 Having a hard time taking the sport of cheerleading seriously? Well, then take it up with Kahuku High wrestlers Shanel Vivas, left, and Kawai Chee, who also happen to be members of the school's pep squad.

Eugene Tanner • The Honolulu Advertiser

Kawai Chee, her Kahuku High junior classmate, also is an outstanding wrestler — the O'ahu Interscholastic Association Eastern Division champion in the 108-pound division last year — and a club judo competitor.

Vivas and Chee are two-sport athletes at Kahuku High because they are also Red Raider cheerleaders, looking forward to the first OIA East Pep Squad championships on Saturday.

Cheerleading, officially pep squads, was officially sanctioned as a sport by O'ahu's two high school leagues effective this year. Varsity and junior varsity championships are being held.

Most cheerleaders think it is about time.

"It is as hard as any other sport," Vivas says. "We work hard, but other people in our school don't really think so. We run (for conditioning) and it takes a lot of strength and teamwork to do the stunts where we lift girls.

"It's a great feeling when you see the crowd cheering with you, like at the state football championship game."

Chee has not suffered a serious injury in wrestling or judo, considered two of the most dangerous interscholastic sports, but she was out of cheerleading for two weeks when she sprained her wrist.

"I base; I'm the one on the bottom holding girls my weight (105 pounds) or heavier," Chee said. "I couldn't lift them when I hurt my wrist."

Vivas often is a "flyer," one of the girls being lifted high in the air. "I've been dropped a few times," but not hurt, she said.

Cheerleading is a year-round sport. During wrestling season, Vivas and Chee go to study hall for 30 minutes when school ends at 2:30 p.m., then to wrestling practice from 3 to 6, and to cheerleading 6 to 8 most days. "You have to give both sports equal time," Chee said.

Kahuku's 16-girl, 1-boy pep squad cheered at football games, but has missed some basketball games so it can practice for the league championship. "We're working on a hard-core, 21/2-minute performance," Vivas says.

Next year there might be an official state championship, too.

"Both (sports) have highs," Chee says. "Cheerleading is all happy and peppy. Wrestling is all aggressive and 'get into it' — it's a physical sport.

"In cheering you get highs from the crowd. In wrestling your high comes when you're on the mat and kicking girls down and trying to be the best you can."
NOTES: The OIA Eastern Division Pep Squad Championships will be Saturday at Castle High gym, junior varsity at 4 p.m. and varsity at 5. General admission is $5; qualifying students pay $3. . . . Pearl City won the varsity and JV divisions of the first OIA West championships Saturday at 'Aiea. The overall OIA championships will be Feb. 10; site and time to be determined.