By Brandon Masuoka
Advertiser Staff Writer
An 81-year-old tourist from Canada was in critical condition at the Queen's Medical Center last night after he was bludgeoned and robbed inside a Waikiki hotel bathroom early yesterday morning, police said.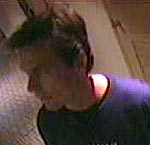 A hotel surveillance camera took this picture of the suspect in yesterday's attack on a Canadian tourist.

The robbery occurred at the Ohana Waikiki West hotel at 2330 Kuhio Avenue shortly after 1 a.m., police said.

The man and his wife had just arrived from Ontario and were checking in when he went into the lobby bathroom, police said. The robber followed the tourist, struck him at least three times on the head with a blunt object and stole the man's wallet, police said.

The man underwent immediate surgery for his head injuries, police said.

Police released a photo of the suspect, who was videotaped on the hotel's surveillance camera.

Police described the robber as a man in his early to mid 30s, 180 to 200 pounds, 5 feet 10 to 6 feet, with brown neck-length hair and a tan complexion. He was wearing a dark blue or purple T-shirt with "Hawaii" in white letters across the front, and green, knee-length shorts and slippers.

The robber may also be linked to a burglary of money and T-shirts at the Ocean Resort Hotel Waikiki, 175 Paoakalani Avenue, at about 7 a.m. yesterday.

Anyone with information should call CrimeStoppers at 955-8300.