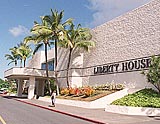 Liberty House likely would emerge from bankruptcy with new owners, but the Mainland investment firms that would hold about 80 percent of the retailer are not expected to be long-term shepherds of the state's largest retailer.

Advertiser library photo • Sept. 19, 2000
Liberty House may go to 'vulture funds'
The two private Mainland investment firms that would be the new majority owners of Liberty House under a pending reorganization plan have extensive histories of acquiring distressed companies out of bankruptcy.

Bill would extend tax breaks
For the third consecutive year, Gov. Ben Cayetano has prepared a package of tax incentives that could save high-tech companies, investors and employees millions of dollars.

Click!
Get the right parts and a little advice
Installing computer networks was once comparable to surgery — it was something best left to the professionals, and you would never try it at home.

Four different methods for users to choose