By James Gonser
Advertiser Central Bureau
WAIPAHU — Bolstered by a $5 million loan guarantee from the U.S. Department of Agriculture's Rural Development Program, the Hawaii Filipino Community Center in Waipahu is finally beginning to take shape.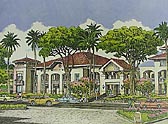 The $8.5 million Filipino Community Center, scheduled for completion by June 2002, was designed by the Honolulu architecture firm of Wimberly Allison Tong & Goo. A $5 million loan guarantee from the U.S. Department of Agriculture is keeping construction moving until about $6 million in pledges are paid, organizers said.

Architect's rendering courtesy of Filipino Community Center

Construction of the center, at Waipahu and Mokuola streets near Hans L'Orange Park, began Dec. 8 after several years of planning and fund-raising.

Rose Churma, interim executive director of the nonprofit Filipino Community Center Inc., said the federal loan guarantee was one of the conditions to secure a construction loan from City Bank.

Churma, who has been working on the center since 1994, said the entire project is expected to cost about $8.5 million, and close to $6 million has been raised already, mostly in the form of pledges.

"We needed a construction loan to tide us over. All the pledges may not come in exactly when needed," Churma said.

U.S. Rep. Neil Abercrombie, D-Hawai'i, helped secure the loan guarantee.

"Hawai'i's Filipino community has worked long and hard to bring this dream to life," Abercrombie said. "It's a tribute to everyone who's been involved in the planning, organization and fund-raising. It's a privilege for me to be part of that effort."

Called the FilCom Center, the facility will represent Filipinos living in the Islands and will be a gathering place for promoting Filipino culture and heritage, Churma said.

Nearly a century since Filipino plantation workers first settled here, they are Hawai'i's fastest-growing ethnic group.

In the 1990 Census, 15 percent of Hawai'i's 1.1 million residents, or 168,682 people, identified themselves as Filipino. Today, experts say, they are closer to 20 percent of the state population.

Churma said about half the residents of Waipahu are of Filipino decent, and many donations came from the former sugar cane workers.

Amfac/JMB Hawai'i, owner of the now-defunct Oahu Sugar Co., donated a two-acre plot near the old Waipahu mill for the project. The land — worth an estimated $3 million — was given to the center as part of Amfac's redevelopment plan after the 1995 closure of the mill. The mill once was the area's largest employer.

The center itself will be a three-story, 50,000-square-foot facility. The first floor will be leased to retail businesses, the second floor will have a large assembly area and commercial kitchen, and the third will allow space for other nonprofit companies that provide community services including health, education and employment training.

Churma said plans include a community technology center to improve small-business computer skills for new immigrants and struggling family enterprises.

Permanent and temporary cultural displays will be placed in three galleries, and group performances and festivals will be held at the center.

It is hoped the community center will help spark an economic revitalization, needed badly in Waipahu, and will serve as a long-needed gateway to help new arrivals adjust and feel welcome.

"We plan to use the arts and festivals to attract people to Waipahu," Churma said. "We believe that the FilCom Center will serve as a catalyst for Waipahu. The key to succeeding in Waipahu is all of us working together. It's the only way for a community to revitalize itself."

Western Engineering Ltd. is general contractor for the project, with completion expected by June 2002.