By Tino Ramirez
Advertiser North Shore Bureau
HALE'IWA — Debate among North Shore residents over allowing drive-through windows at fast-food restaurants in Hale'iwa Town is being rekindled by City Councilwoman Rene Mansho's proposal to change land-use laws that bar them.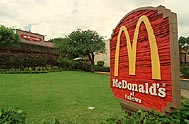 Although its variance was ruled illegal, the drive-through at the McDonald's in Hale'iwa continues to operate.

Cory Lum • The Honolulu Advertiser

Mansho said yesterday her proposal was prompted by residents who support McDonald's of Hale'iwa, which has the town's only drive-through. An exception to Hale'iwa's historic district laws granted in 1997 allowed it to open, but the Circuit Court ruled the variance illegal last year.

McDonald's owner Susan Smith plans a state Supreme Court appeal of the ruling, which resolved a lawsuit by several North Shore residents and the environmental group Life of the Land. In the meantime, the drive-through remains open.

"This is meant to open up discussion, and there are going to be many opportunities for people to speak about the issue," Mansho said. "We don't want to discriminate and give drive-through privileges to certain businesses, like McDonald's. The question is what would the community support within the Hale'iwa special district."

Judging from Tuesday night's meeting of the North Shore Neighborhood Board, where the proposal was aired for the first time, residents remain as split as they were when Smith's variance application moved through city government.

Mansho's proposal is "outrageous," said Larry McElheny, the board's vice chairman and one of the plaintiffs who sued to overturn the variance. Through the years, he said, residents working with government on developing guidelines for the North Shore have never supported drive-throughs.

"It's not the drive-through, per se," McElheny said. "It's what goes along with it, the financial and economic advantage it gives them. And if you open up all of Hale'iwa, then you'll get this influx (of drive-throughs). The culture, the values and economy of the community will be diluted."

Residents of Waialua and Hale'iwa value McDonald's and the drive-through, Richard Holmberg said.

Smith, he said, provides jobs for youth, supports community programs and had permits to build the drive-through. Just a few people are against it, he said.

"Without it, McDonald's is going to close," said Holmberg, who lives in Waialua. "For senior citizens like us, it's a place we go to sit down, have coffee, talk story about old times, how the community's changing. The drive-through is not hurting anybody."

Board member Ken Newfield said Mansho's proposal is meant to help McDonald's win politically what it has not won legally.

Smith said changing the law is the right way to resolve the issue. She said the McDonald's drive-through, which is landscaped and has little effect on traffic, "enhanced the country image of Hale'iwa."

If other drive-throughs are required to be built in the same way, they, too, will have little effect, she said.

"In the last three years, the drive-through has added 24 jobs," Smith said. "It's been beneficial for the community in economic revitalization, and that's as important to Hale'iwa as historic preservation."

McElheny described drive-throughs' effects as "incremental degradation." "Change happens bit by bit. This countryside won't be urbanized overnight. It will happen one drive-through, one traffic signal, one streetlight at a time."