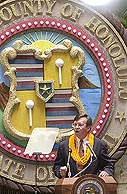 Mayor Jeremy Harris addressed a crowd at Honolulu Hale today as he laid out his plans for the coming year.

Richard Ambo • The Honolulu Advertiser
Posted at 5 p.m., January 25, 2001
BREAKING NEWS
Elderly tourist assaulted in hotel dies
The 81-year-old Canadian tourist who was bludgeoned and robbed early Tuesday morning inside a Waikiki hotel restroom died this afternoon, police said.

Previous story: Man held in attack on tourist at hotel

Posted at 5:55 p.m., January 25, 2001
OCCC escapee captured by police
Prison escapee Kerbert Silva was recaptured in a Makakilo neighborhood at 4:55 this afternoon.

Previous story: Fugitive sought after car crash

Posted at 10:45 a.m., January 25, 2001
Harris to pay worker raises, but doesn't rule out tax increase
Honolulu Mayor Jeremy Harris pledged the city will pay negotiated pay raises for public workers, but said such raises and other costs are straining the city's budget.

Full text of State of the City speech



City gets national soccer tourney
Honolulu will host the 2002 American Youth Soccer Organization's National Games, a weeklong event that could bring $10 million to the local economy. The games will be played at the city's new Waipi'o Soccer Park.

Isle hotel occupancy highest in decade
A survey of Hawai'i hotels says occupancy and room rates hit decade highs last year, but less spectacular results are predicted this year because of economic concerns.

Legislature may tackle abortion
The heads of the state House and Senate health committees say they will consider hearings this session on two bills aimed at restricting minors' access to abortions.


New Advertiser series
10 reasons for getting active outdoors
For many Island residents, quality of life can be measured in direct proportion to how much time we have to enjoy Hawai'i's unique outdoor life. Today we begin a series on our top 10 recreational pastimes.

No. 10: Volleyball provides vigorous workout

| | |
| --- | --- |
| | You can now get our news and weather information on your wireless phone. |