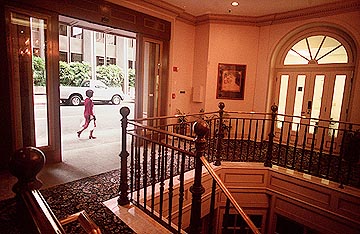 This is the interior of the Stangenwald Building, a century-old downtown office building described as having "warmth and personality."

Jeff Widener • The Honolulu Advertiser
The original Stangenwald

By Mike Leidemann
Advertiser Staff Writer
Honolulu's first high-rise building turns 100 this year.
Finished in 1901, the Stangenwald Building's six stories could be seen from miles around. Only Kawaiaha'o Church (1854) and Aloha Tower (1921) would compete with it for decades to come.
Today, the Stangenwald is dwarfed by taller buildings, overshadowed by more impressive architectural statements. Pedestrians and drivers rush by without a second glance. Yet it remains a sought-after office space, and those who take a few minutes to know its history come away impressed.
"Unlike modern high-rises, this building has a real warmth and personality," said architect Glenn Mason, who has his own offices on the fifth floor. "It's got character and texture."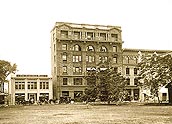 The six-story Stangenwald Building was Honolulu's skyscraper of its time, as seen in this 1912 photograph by Ray Jerome Baker.

Photo courtesy State Archives

"Even 100 years later you can see the style and class that went into the building," said Frank Haines, who leads an architectural walking tour through downtown Honolulu. "It's still a charming place."

Charming doesn't describe downtown Honolulu 100 years ago.

When the Stangenwald Building was going up, downtown was a hot, dusty, unpleasant place. Bishop Street, the main mauka-makai street, was still being built. Just a few blocks away the great 1900 fire had destroyed over 60 acres of Chinatown. Public health officials were burning other buildings and quarantining hundreds of immigrants to control an outbreak of plague.

Still, money and optimism were in the air. The U.S. annexation of the Hawaiian kingdom in 1898 fueled a mini-building boom. The Alexander Young Hotel, which was torn down a few years ago, was the most notable of the buildings, but it was the four-story Judd and Boston buildings on Merchant Street, with Hawai'i's first electric elevators, that signaled the start of Honolulu's transition to a vertical city.

On the Mainland, high-rises appeared in New York and Chicago as early as the 1870s. The first elevators were installed in New York in 1868. The American Surety Building, 21 stories tall, was finished in 1895.

"The elevator is what made high-rises possible," Mason said. "Before the elevator, buildings were limited to about five stories, the most anyone would be willing to walk up the stairs."

The Stangenwald Building, named for a Honolulu daguerreotype artist, photographer and doctor who had his offices on the site for many years, broke new ground in going to six stories.

The building, one of the first works by C.W. Dickey, one Hawai'i's best-known and most prolific architects, is built in the Italianate style, with a brick exterior and terra cotta detailing. It was touted as one of Honolulu's first fire-proof buildings; its elevator ran at an astounding speed of 350 feet per minute.

"Dickey borrowed a lot of small features from 17th- and 18th-century Italy," Haines said. "There are arched windows, a beautiful little third-floor balcony, triangular pediments."

It's those little touches that give the building its lasting appeal, Mason said.

He points to the original 12-foot ceilings on the ground floor, the marble floor, intricate brick work, slate steps and iron balusters as things that give the building its character. There even was a parking space for bicycles in the basement.

The building was a big hit with the downtown crowd. For years, attorneys and other professionals kept the office space full. Among the earliest company tenants were B.F. Dillingham, Alexander & Baldwin, and Castle & Cooke, all of which commissioned their own Bishop Street buildings in 1920s. One of Honolulu's best-known jewelry stores, Hildegund, had a ground-floor retail space there for decades.

The strange thing is the success of the first high-rise wasn't duplicated in downtown Honolulu for more than 50 years.

Even when the best of downtown historic buildings were constructed in the 1920s, they didn't reach skyward. The Alexander & Baldwin, Castle & Cooke, Theo Davies, and Dillingham Transportation buildings all were monumental, filling city blocks. None, however, was more than four stories tall.

After the turn of the century, Honolulu's economy took a downturn that stopped most new building for 20 years. Dickey gave up his practice and moved to the Mainland, where he stayed until the 1920s, when he returned to make his mark on Hawai'i.

It wasn't until Honolulu Gas Co. finished its six-story building in 1954 that Stangenwald's height was equaled. Downtown's first real skyscraper, the 18-story First National Bank of Hawai'i Building, wasn't built until 1962.

"It's curious," Mason said. "Nothing fully explains it."

Today, the Stangenwald Building stands out for its lack of height in a forest of skyscrapers.