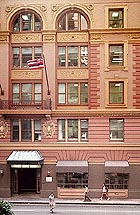 The six-story Stangenwald Building towered above its downtown contemporaries on Merchant Street when it was built in 1901.
Jeff Widener • The Honolulu Advertiser
Honolulu's first high-rise turns 100
Finished in 1901, the Stangenwald Building's six stories could be seen from miles around. Only Kawaiaha'o Church (1854) and Aloha Tower (1921) would compete with it for decades to come.

The original Stangenwald
South Pole doctor recounts battle to survive breast cancer
Physician Jerri Nielsen, who was faced with the prospect of treating her own breast cancer while virtually trapped in the South Pole winter, tells of her experience in a new book.
Tip-Off
Valentine's Day party set at Esprit nightclub
Two popular Waikiki show bands, the Krush and Honolulu, will combine forces to present a Valentine's Day party, Heart Lite Connection, at the Esprit nightclub at the Sheraton Waikiki Hotel.