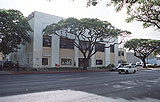 The Kodak Building on Kapi'olani Boulevard was Hawai'i's Eastman Kodak headquarters. The property almost became a luxury condominium in the mid-1990s, but a downturn in the high-end residential market ended those plans. See story

Cory Lum • The Honolulu Advertiser
Maui Hyatt sold for $200 million
New York-based private investment bank The Blackstone Group has contracted to buy the Hyatt Regency Maui Resort for an estimated $200 million from KM Hawaii Inc., an affiliate of Japan-based transportation company Kokusai Jidosha.

Kodak complex changes hands
The furniture store owner who bought the former Flamingo Chuckwagon restaurant property on Kapi'olani Boulevard is buying the neighboring site of the Kodak Building complex to expand a planned $25 million interior design center.