Full text of Harris' State of the City address

By Robbie Dingeman
Advertiser City Hall Writer
Honolulu Mayor Jeremy Harris presented a modest agenda for the upcoming year in his seventh State of the City address yesterday that included a call for beautifying the dense urban area around the Hawai'i Convention Center.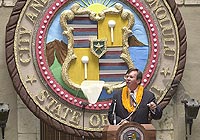 Mayor Jeremy Harris' State of the City speech hinted at lower property taxes.

Richard Ambo • The Honolulu Advertiser

It was an upbeat, politically safe speech that didn't propose expensive new programs and won praise from City Council members, who would need to support the policies if they are to be enacted.

Harris again hinted that after years of declining property values that Honolulu property owners are likely to see a raise in their property tax rates.

He said, "I'll work hard in the coming budget to keep property taxes still lower than they were in 1994, when I first became mayor and we'll continue to use new technology and innovation to keep government costs down."

Harris has been citing a decline in real property tax revenues from $433 million in 1994 to $374 million in the current fiscal year, a drop of $59 million. He said that government employee pay raises and retirement benefits will rise by $58 million this year, but he said the city has a moral and legal obligation to pay the arbitrated raises.

"The innovations we've implemented over the last six years have enabled us to be more efficient and productive to address declining tax revenues, but current law severely limits the ability of management to manage," Harris said.

He renewed his pitch for state legislators to give government more power to contract with private companies to perform some services.

Harris pledged to:
Create a Small Business Development Center in partnership with the federal Small Business Administration to help train entrepreneurs starting new businesses using vacant office space in the Chinatown Gateway Plaza.
Start a Small Business Incubator in other vacant office space in Chinatown to provide ready-to-use office space at attractive rates to new start-up businesses.
Establish a High Tech Park on 50 acres of unused city lands at Manana, which would provide low lease rents and tax benefits to information-based companies.
Build 50 more sets of play equipment at city parks, adding to 50 installed last year.

Council member Duke Bainum applauded the proposal to provide incentives for people to develop the area near the convention center.

"We have a beautiful multimillion-dollar convention center in the middle of a community that is less than desirable," Bainum said. "Just look across the street at the strip bars; that's really not the message that we want to send out to conventioneers."

Harris said the idea is to have open-space requirements with design guidelines "so that as the property is redeveloped, it's redeveloped in the appropriate way to complement the convention center" instead of allowing it to continue to deteriorate.

Harris said the boundaries of the district have yet to be defined but the "gateway to Waikiki" deserves improvements. "A lot of our residents live right in that community and they're plagued with problems with the bars, with noise and with prostitution and drugs and it's time we just did something about it."

W. David P. Carey III, president and chief executive officer of Outrigger Enterprises Inc., said the area around the convention center "certainly wasn't proactively planned to be a convention district, and there are a lot of establishments there that you wouldn't necessarily chose to put next to a convention center."

Carey, vice chairman of the Hawai'i Tourism Authority, said having more restaurants, retail and activities that are supportive of a convention operation "makes sense."

City Council Budget and Economic Development Chairman Rene Mansho said the district could offer a comprehensive plan to specify the types of development that are desirable for the area, and could encourage redevelopment with city-financed improvements in roads and landscaping.

Bainum said he thought the lack of "big-ticket items" in the speech reflected the reality that the economy is still recovering.

"I think that's the sign of a good leader; he scaled back despite the temptation in an election cycle."

After the speech, Council Chairman Jon Yoshimura said he believes that property taxes will need to be raised. "I think it's likely."

Council member Andy Mirikitani praised many of the Harris initiatives but he also said he found the Harris supplemental budget request of $82 million shows a "very alarming" increase in using bond money to pay for projects.

Council member John Henry Felix said Harris set out "a very realistic yet bold agenda" that will be possible with the help of a supportive council.

Harris is scheduled to deliver his budget proposal the first week of March.

Harris announced, as expected, the American Youth Soccer Organization National Games will be held on O'ahu in 2002, pumping $10 million into the economy.

He also said that two South Korean major league baseball teams will come to O'ahu for winter training at the new baseball facilities in Central O'ahu.

City spokeswoman Carol Costa said the speech will be rebroadcast at 9 a.m. today on KHNL; at 9 p.m. Monday on KGMB; and 6:30 p.m. Wednesday on K-5.

Advertiser Capitol Bureau chief Kevin Dayton contributed to this report.