By Jennifer Hiller
Advertiser Staff Writer
The University of Hawai'i-Manoa falls short of the national average when it comes to measuring student involvement in their college education.
Manoa students reported fewer interactions with faculty, a lower level of academic challenge, less active and collaborative learning, fewer enriching experiences and a less supportive campus environment than their counterparts nationwide, according to a recent survey by Indiana University's Center for Postsecondary Research and Planning.
UH-Manoa also ranks slightly below its peer institutions — the 45 other universities with extensive undergraduate and doctoral programs that took part in the study.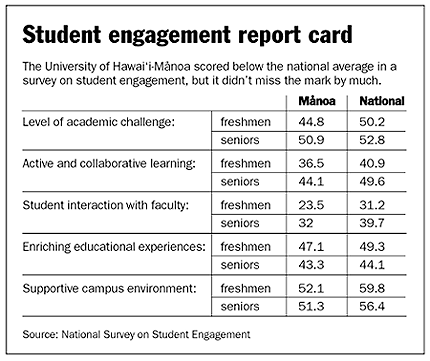 The national results paint a somewhat mediocre picture of campus life in America. Overall, most schools, including UH-Manoa, performed in the middle third of the 100-point scale, according to the survey. It also found that students at large campuses such as Manoa are less engaged in their education than students at small, liberal arts colleges. As school enrollment grew, student engagement decreased across the board.
The National Survey on Student Engagement looked at students at two key points in their undergraduate program — as freshmen at the end of their first year and as seniors who are about to graduate — to measure the quality of the undergraduate experience.
While the top schools in the study scored above the 60th percentile consistently, Manoa scored mostly in the 30th to 50th percentile.
In one area, though, Manoa's scores fell into the 20th percentile. UH-Manoa received its worst scores for student interaction with faculty members.
Manoa freshmen scored 23.5 out of 100, while the national average was 31.2. Seniors scored 32 out of 100 at Manoa and 39.7 nationally. The category asked students questions like whether they and professors ever discuss grades or assignments, career plans or ideas from reading or classes.
Student's choice
Kip Kawamoto, a freshman from Seattle majoring in international business, said he hasn't noticed much contact between students and professors. "I don't really interact with my teachers too much," Kawamoto said. "It's pretty sad. I think they make a good effort, though. They give us their e-mail and home phone numbers. I would say it's probably more of the student's choice."
Manoa's highest scores came from having a supportive campus environment. The category measured the quality of relationships with other students, faculty members and the administration, as well as whether the campus helped students cope with school and personal responsibilities. Manoa freshmen rated the campus a 52.1, compared with 59.8 nationally. From seniors, Manoa received a 51.3, while the national average was 56.4.
Kay Nakayoshi, a freshman studying business, has found plenty of recreational activities offered on campus and said her professors are easy to reach. "They are accessible. You could talk to someone every day," she said. "Some of them actually require you to come in and see them. I think they're all good."
Results of the survey were confidential to encourage participation, but universities could release the information on their own. The survey was conducted last spring and did not attempt to rank universities against one other, but some of UH's peer schools that did well include Brigham Young University, the University of Virginia and the University of Michigan at Ann Arbor.
More than 63,000 randomly selected undergraduates from 276 colleges and universities took part in the survey, but UH-Manoa was the only Hawai'i school to participate.
Dean Smith, UH senior vice president and executive vice chancellor of the Manoa campus, said he was not familiar with the survey results and could not comment.
UH came close to the national average in providing enriching educational experiences. Freshmen rated the university at 47.1 out of 100 and seniors rated Manoa at 43.3 out of 100. Nationwide, freshman scored 49.3 and seniors scored 44.1.
The category considered participating in campus organizations, internships and interacting with students of different races or ethnicities.
Many students commute
Pi'ilani Smith, a senior and the former president of the Associated Students of UH, said students have the opportunity to get involved on campus, but many students feel they don't have a voice in campus politics or the respect of the administration. Also, many students commute or work more than one job, she said.
"People really don't know where to channel their interests," Smith said. "Technically there are venues for this to happen, but there are too many hurdles. There isn't much going on as far as campus life."
When measuring the level of academic challenge, Manoa freshmen rated the university at 44.8 out of 100. Nationwide, students rated their universities at 50.2. MŒnoa seniors rated a 50.9 and the national average was 52.8. The questions asked about the number of assigned textbooks for class, time spent preparing for class, the number of written papers and whether students worked harder than they thought they could.
When it came to active and collaborative learning, UH freshmen scored 36.5 and the national average was 40.9. Seniors scored 44.1 at Manoa and 49.6 nationally. The category of questions asked whether students participated in class discussions, made a class presentation, worked with other students on projects or tutored.
Sun Woo, a sophomore studying economics and dance, said Manoa students do not have the same sense of community as students do in her native Kwangju, South Korea. "I think people have a more strong individual life here in America and not as much of a group life," Woo said. "It gave me a hard time, too, when I first came here. There doesn't seem to be many clubs on campus or much student and professor interaction."