By James Gonser
Advertiser Staff Writer
KANE'OHE — An estimated 200 private piers line the edge of Kane'ohe Bay, allowing residents with fishing boats, kayaks and pleasure boats easy access to the tranquil waters, but less than two dozen of those piers have the proper government authorization, according to the state Department of Land and Natural Resources.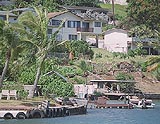 Many families who live on Kane'ohe Bay have built piers to give them access to the water, but have failed to register for the proper government authorization. The state is offering an amnesty program to pier owners.

Eugene Tanner • The Honolulu Advertiser

To bring all piers into compliance and to resolve questions about which piers are legal, the land department has created an amnesty program to pardon people who own an unauthorized pier.

"What we're proposing is one master conservation district use permit and people that join the amnesty program will be grandfathered in," said Traver Carroll of the land department. "They will also get a 55-year lease for the land under the pier."

Owners who choose not to take part in the program and pay a lease fee will be required to remove their piers.

"If they don't join, they can tear their piers down or we can tear it down and they can pay for the work," Carroll said.

He said a method to calculate the lease rate has not been finalized, but Roy Yanagihara of Protect Our Shoreline 'Ohana said he expects leases to cost between $3,000 and $4,000 each. The group was formed to represent pier owners and obtain long-term leases.

Carroll said it would cost between $10,000 and $30,000 for individual pier owners to hire a consultant and obtain the proper permits on their own.

The land department this week filed a Draft Environmental Assessment with the state Office of Environmental Quality Control detailing the project.

This program does not include seawalls, fill, boat ramps or steps.

According to a letter sent this week to all pier owners, they have until Feb. 22 to return a completed application form to be included in the program, but Carroll said people who sign up can back out at any time.

Yanagihara said the department's proposal sounds reasonable. It is the result of a law passed last year giving the department the authority to negotiate directly with the pier owners on conservation district land permits without seeking approval from either the Legislature or the governor, Yanagihara said.

Previous plans had lease amounts tied to the value of the adjoining property, Yanagihara said, but that idea was rejected by the Land Board.

His group would like to see a price set by the length of the pier. That would take out the ambiguity, he said, such as various widths or amenities attached to piers.

"If they insist on going into a valuation method based on the value of the adjoining land, then we are going to have all kinds of issues on property appraisals," Yanagihara said.