By William Cole
Advertiser Staff Writer
Convicted murderer Byran Uyesugi yesterday was back in Circuit Court for the second time in as many weeks acting as his own attorney in civil proceedings over his 1999 shooting rampage that killed seven of his fellow Xerox employees.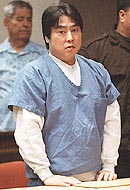 Byran Uyesugi is acting as his own attorney during civil proceedings related to the 1999 shootings that left seven co-workers dead. He is serving a life sentence without parole.

Eugene Tanner • The Honolulu Advertiser

Judge R. Mark Browning denied a motion by Xerox Corp. to dismiss four counts and a punitive damage request in a lawsuit filed by Randall Shin and his wife, Debra, against the company and Uyesugi.

Uyesugi did not speak during the hearing.

The former Xerox copy machine repairman gunned down the co-workers at the company's Nimitz Highway warehouse on Nov. 2, 1999, in the state's worst mass murder. He is serving a life sentence without parole.

Shin was spared, but was in the same room where two of the workers were shot to death. Without comment, Browning denied the motion to dismiss counts alleging willful and wanton misconduct, "vicarious" liability, the intentional infliction of emotional distress and a claim by Debra Shin of loss of consortium.

Attorney Michael Green, who also represents George Moad in a separate lawsuit, called the ruling "a victory for the families." Moad discovered the bodies.

Uyesugi also appeared last week in court for a hearing in Moad's case.