By Walter Wright
Advertiser Staff Writer
Esta Solomon Chaplin, wife of George C. Chaplin, editor at large of The Honolulu Advertiser, died Wednesday after suffering an apparent stroke at their home in Charleston, S.C. She was 84.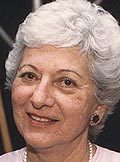 Esta Solomon Chaplin lived in Hawai'i nearly 40 years with husband George, editor of The Advertiser until 1986. They are pictured together in the large version of this image.

Advertiser library photo

Mrs. Chaplin will be buried in Charleston today, on the 64th anniversary of her marriage to the newspaperman who brought her to Hawai'i. Chaplin was editor of The Advertiser from 1959 to 1986, when he retired.

The Chaplins lived in Hawai'i for nearly 40 years before they returned to Mrs. Chaplin's native Charleston in March 1998.

"She reflected everything that a great wife and companion should," Chaplin said yesterday. "I have been blessed."

Chaplin recalled that his wife once asked him if she had married him or married a newspaper, and she was patient with his answer that she had probably married both.

Mrs. Chaplin, however, had strong views and didn't hesitate to express them even when they conflicted with those of the influential editor, said longtime friend Gaye Glaser of Honolulu.

"She worked hard for candidates that George might not have always agreed with, and she had principles and she stood up for her rights and I was proud of her," said Glaser, a co-founder with Mrs. Chaplin of the 21st Century Club, a women's educational organization.

Rabbi Avi Magid of Temple Emanu-El yesterday remembered Mrs. Chaplin as "the quintessential genteel Southern woman, a really first-class woman" who was such a close supporter of her husband that "I always felt there was some sort of umbilical connection between the two of them."

Magid said leaving their Hawai'i home was difficult for the Chaplins, but they were happy to be in Charleston, close to their roots and to their children.

One of seven children of Anna Dora Fox Solomon and Walter Solomon, Mrs. Chaplin graduated from Memminger High School and worked in the family furniture store before her marriage to the then-city editor of a newspaper in Greenville, N.C..

She accompanied her husband to newspaper jobs in Camden, N.J., San Diego and New Orleans before coming to Honolulu in 1958.

She was active in the Junior Council of Jewish Women and the Junior Branch of Hadassah.

In addition to her husband, Mrs. Chaplin is survived by son Stephen M. Chaplin of McLean, Va.; daughter Jerri Chaplin of Charleston; brothers A. Melvin Solomon and I. Irving Solomon of Charleston; and four grandchildren.

Donations in her memory may be made to the George and Esta Chaplin Scholarship Fund through Temple Emanu-El.