By Will Hoover
Advertiser Staff Writer
He was an itinerant preacher who traveled to churches around the Islands to deliver Sunday sermons. He was a noted historian who helped write the history of St. Andrew's Cathedral.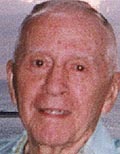 The Rev. Kenneth D. Perkins had preached to Presidents Franklin D. Roosevelt and Harry Truman.

He was a renaissance man who read a book a day, but never before he'd completed a daily crossword puzzle without a dictionary.

All of that was after his second retirement in 1972.

Before his first retirement in 1962, the Rev. Kenneth D. Perkins was a clergyman and Navy chaplain who had preached to Presidents Franklin D. Roosevelt and Harry Truman, survived a Japanese destroyer attack on Midway Island on Dec. 7, 1941, and, at age 28, circled the globe before spending eight months studying at the London School of Economics.

Although Perkins, who died of a heart attack on Jan. 23 at Pohai Nani Retirement Home, was not a familiar figure to many in Hawai'i, he was well known to Hawai'i Episcopalians.

"He had an absolutely perfect last day on Monday the 22nd," said his niece, Sigrid Southworth. "He went up to Tripler and the doctors said he looked fine. He and his wife, Ruth, had lunch there, and later he had a visit from a retired bishop and friend from San Diego, and they had a gala Chinese New Year's party for dinner.

"The next morning, he was dressed for breakfast and collapsed over his desk."

Perkins was born on Aug. 11, 1908, at Himrod, N.Y., and, in 1932, graduated from the Berkeley Divinity School at Yale University. After he arrived in Hawai'i in 1933, he was ordained at St. Andrew's Cathedral by Bishop S.H. Littell.

Perkins taught at Iolani School, which at the time was on the banks of Nu'uanu Stream, and later served as an assistant under Dean William Alt and conducted weekly chapel services at St. Andrew's Priory. From 1939 to 1941, he was the vicar of Holy Apostles Church in Hilo, Hawai'i.

In October 1940, Perkins was a guest preacher at St. Thomas Protestant Episcopal Church in Washington, D.C., which was attended by President Roosevelt and his family.

In 1941, he became a Navy chaplain and was stationed on Midway Island. In 1945 Perkins was the chaplain aboard the USS Augusta, which carried President Truman to the Potsdam conference on postwar Germany.

Perkins established a reputation as a leading church historian in Hawai'i. Rianna Williams, author of the history of St. Andrew's Cathedral, said: "He had a detailed knowledge of the Episcopal Church and the cathedral itself that nobody else had. "

Perkins is survived by his wife of 51 years, Ruth Kirkpatrick Perkins; a sister, Mildred Louise Schmidt of Columbus, Ohio; and a nephew, Luther Calvin Perkins of Hammondsport, N.Y.

His funeral will be 5 p.m. Wednesday at the cathedral; inurnment at 11:30 a.m. next Friday at the National Memorial Cemetery of the Pacific. Arrangements by Borthwick Mortuary. Memorial contributions may be made to The Rev. Ken Perkins Scholarship Fund at Iolani School or to a favorite charity.