By Stacy Kaneshiro
Advertiser Staff Writer
Despite a few bumps along the way, Carl Ball got off to a running start.
Cortland Wilson's two-out single to left-center scored Tim Montgomery in the bottom of the 11th inning as Hawai'i beat Sacramento State, 8-7, in a collegiate baseball season opener for both last night.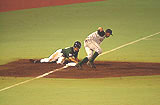 Matthew Purtell slides in safely at third on a double-steal during the fifth inning. Patrick Scalabrini stole second on the play.

Gregory Yamamoto • The Honolulu Advertiser

The remains of a Rainbow Stadium crowd of 886 saw each team blow ninth-inning leads before Montgomery grounded a two-out single, stole second and scored on Wilson's hit off Benny Gonzalez (0-1), the Hornets' fifth pitcher of the longest UH season opener in terms of innings played.

Wilson worked a full count, fouling off several curves before getting a fastball for the game-winner.

"He was trying to get me early in the count with curve balls, but I fouled them off and tried to get a hit, put it in play, see what would happen," said the freshman from Sandy, Utah.

It was acting head coach Carl Furutani's first win. He is filling in for Les Murakami, who is recovering from a Nov. 2 stroke. Furutani's coaching style was evident throughout the game, as the Rainbows stole six bases, used the hit-and-run on four occasions (though none worked) and a squeeze attempt (also failed).

"We're going to gamble a lot, try a lot of stuff," Furutani said. "We're going to run into outs, but I think, like I said before, I'd rather do something like that than later on say, 'I should have.' So we're going to press from the beginning."

Four of the six steals were eventually cashed in for runs. A double steal in the fifth with one out, however, didn't net runs.

The Rainbows' aggressive style tempered a blown 5-2 lead in the top of the ninth. Closer Bryan Lee was tagged for four runs, the killer a flare two-run single to right by Daryl Grant and an RBI-double by Chris Kinsey.

Furutani said he considered bringing in left-hander Aaron Pribble to face the left-handed hitting Grant.

"But every pitcher we were bringing in was nervous and I felt Bryan was a little more settled. He made a great pitch, got it up on his hands, and the guy got a bloop for a base hit," Furutani said. "Things happen."

The inning also featured a two-run single by Dave Lusk that bounced off the third base bag.

But the Rainbows tied the game in the bottom of the ninth on a two-base throwing error by freshman third baseman Kinsey on Wilson's grounder.

Pribble (1-0) pitched 2¡ scoreless innings of relief after Lee. Starter Jeff Coleman pitched five innings, allowing two hits, two walks and an unearned run. Chris Quiroz followed with three-plus innings, allowing two runs.
WARM-UP TOSSES: UH poster schedules will be given to spectators upon entering the stadium tonight.